When spring comes to Japan, droves of tourists flock to the Land of The Rising Sun for one reason. Cherry blossom season.
Planning to head over to Japan for cherry blossom season? Make your trip complete with our ShopBack travel deals here!
---
If you want to enjoy cherry blossom season the same way locals do, then you need to learn what hanami is.
Hanami (花見) is the Japanese word for flower viewing however, it is often used specifically to mean cherry blossom viewing. Locals love sakura season too and many of them celebrate by having a picnic party. To ensure they get a good spot, locals "chope" their spots as early as 6 am with ground sheets with their name attached. This is done so that after work, they have a good spot to relax, have a picnic with their friends and loved ones under a canopy of cherry blossom trees.
Image Credit: kazuend on Unsplash
Hanami can be as simple as strolling under the cherry blossom trees or heading to vantage points to enjoy the view. However, popular spots are fiercely contested and can get very crowded. So if you are willing to put up with the crowds, sure. But if you take the time to do a little research and avoid the popular spots, you can still get spectacular views without jostling for elbow room.
Best Spots to Enjoy Sakura
Popular touristy spots can be totally crowded and a huge headache. Instead, I will tell you about places that are a little off the beaten track where you can get a great experience.
1. Tokyo – Meguro river
Image Credit: Sora Sagano on Unsplash
Now before you get out your pitchforks, I am perfectly aware that the Meguro river is a popular spot. However, the crowd thins out at the intersection of the Meguro River and Yamate-dori. This is because most people think the cherry blossom trees end there.
If you keep walking, you will find rows of sakura trees near the Ohashi Junction of the Shuto (Metropolitan) Expressway. It is easy to access, less crowded and both sides are lined with cherry blossom trees with a couple of train stations within spitting distance of the trees.
2. Shizuoka – Mt Fuji
Image Credit:  Daniel Hehn on Unsplash
The five lakes around Mt Fuji are fantastic areas for hanami. The largest lake, Kawaguchi is a full-sized town and also where the picture above was taken. If you are keen to get some unforgettable pictures and views of Mt Fuji and cherry blossoms, then this spot is perfect. The great thing about Mt Fuji is that there are many areas around Mt Fuji that boast great views so you can avoid the massive crowds that descend on cities such as Tokyo and Kyoto.
3. Kyoto – Shoujiji Temple and Oharano-jinja Shrine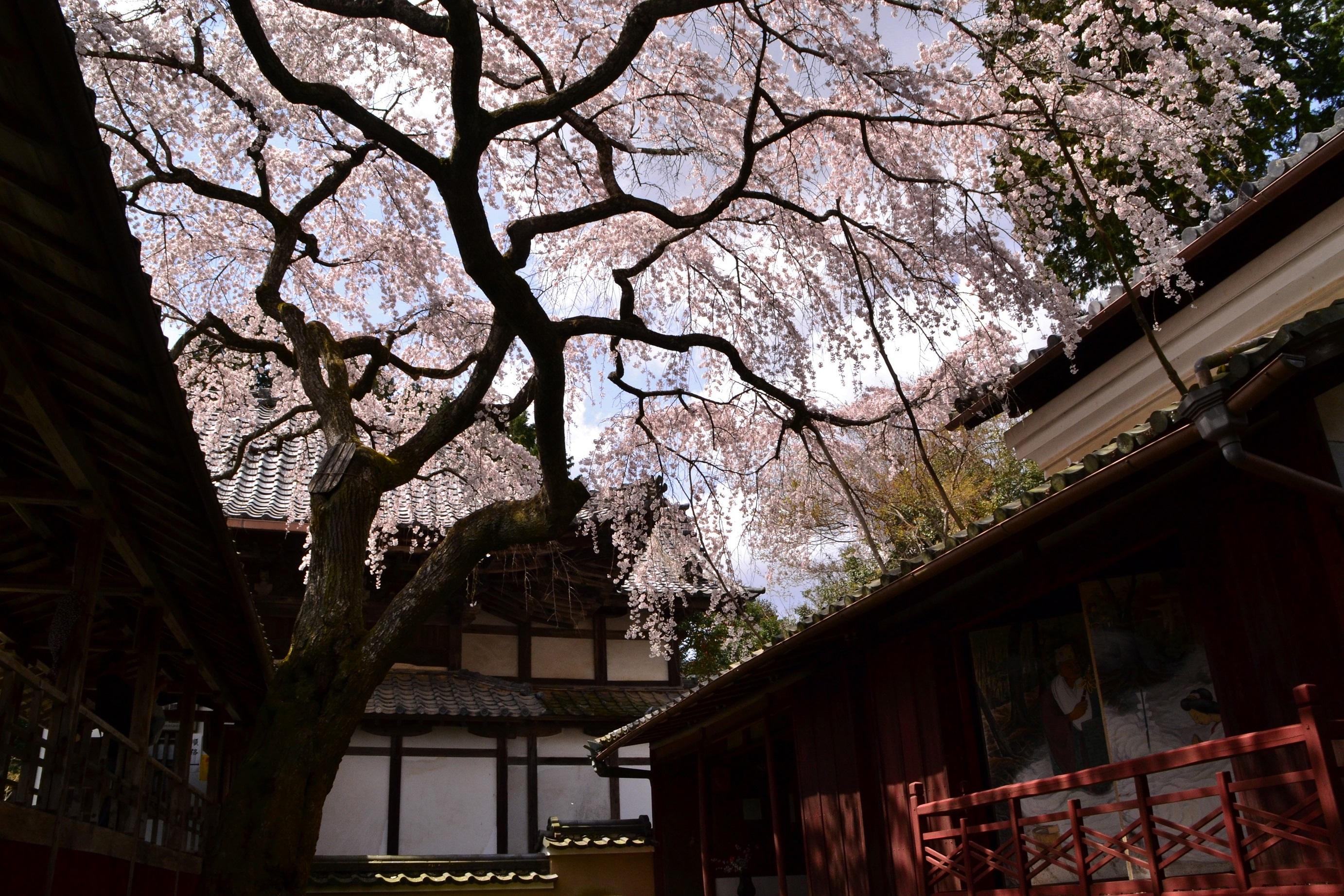 Shoujiji Temple and the nearby Oharano-jinja Shrine are famous for their cherry blossom trees. Planted centuries ago by a renowned priest, it is a tranquil location with a reverent air. Since the temple and shrine are located farther away from the city centre than other popular spots, not as many visitors come by. However, they are great locations to visit as it has fairly extensive grounds and house ancient Buddhist relics to view as well.
---
The Kyushu region has unique cherry blossom trees that can't be found in other regions of Japan. Visitors get to enjoy a different type of experience. Below are some places in Kyushu for a great view of cherry blossoms.
4. Fukuoka – Maizuru Park and the Fukuoka Castle
Maizuru park lights up in the evenings which makes for a spectacular sight. The Fukuoka castle has an expansive garden area that is often visited by locals
5. Kumamoto – The Kumamoto Castle 
Already impressive and imposing, Kumamoto castle looms over you long before you enter its vast grounds. Visiting during cherry blossom season, however, lends a whole new flavour to its stoic grandeur and makes for a great contrast.
6. Saga – Mifuneyama Rakuen
This is a 200-hectare park with more than 2,000 cherry blossom trees and 200,000 azalea trees which makes for an incredible sight. The flower festival held during sakura season also adds illumination which makes it a magical and ethereal sight.
Other Notable Regions and Forecasts
Image Credit: Hokkaido Sightseeing
So yeah, there are a lot of places you can go. Consider Hokkaido, commonly known as a winter wonderland and playground. Or Nara, which is a short train ride from Kyoto which has grown popular for its wild roaming deer. It is not as crowded as Kyoto and you get to see both deer and cherry blossoms.
---
Forecast for 2019
Cherry blossom season is serious enough of an event that it has a forecast each year. The Japan Meteorological Corporation has released its 2019 forecast which you can view here.
In summary, the sakura season will start earlier than usual. The first expected flowering in Japan is around March 18 on Kochi island.
| Area | First Bloom | Full Bloom |
| --- | --- | --- |
| Tokyo | March 22 | March 29 |
| Kyoto | March 25 | April 2 |
| Hokkaido | May 4 | May 9 |
Keep up to date with Shopback posts, deals and tips on The Smarter Way's Telegram channel!
Recent posts
Related Posts
Korean Cherry Blossom Season 2019: Forecast and Recommended Spots To Visit This Year
24/02/2019
In "Travel"
Autumn Travel in Japan: Take the Train on The New Golden Route
13/10/2018
In "Travel"
Where to Watch NDP Fireworks: Best Views From Around Marina Bay
04/08/2017
In "Lifestyle"
Do you want to be a contributor?