Since the COVID-19 outbreak, the decline in international travels has had significant impacts on Singapore's tourism industry – this is where the SingapoRediscovers Vouchers come in! Singaporeans eligible for these vouchers will be able to collect $100 vouchers and spend them on local activities, staycation hotels, and more. It's time for you to be a tourist in your own country!
Today we address all your commonly asked questions regarding how to use the SingapoRediscovers vouchers. We've also compiled pro-tips to maximize your savings, and our top recommendations on the tourist attractions & staycation hotels to spend these $100 vouchers on. 
Pro-tip: before you book your tickets, check-out Trip.com and Klook. To sweeten the deal, you can get up to 4.5% Cashback with Trip.com and 1.5% Cashback with Klook when you shop via ShopBack!
SingapoRediscovers Vouchers with Additional Savings
TLDR:
Who can redeem: Singapore Citizens above 18 years old in 2020 (subsidised child/youth tickets for those under 18 years old)

Where to redeem: via

SingPass

or

physical counters

When to use: from 1 Dec 2020 – 30 June 2021
How to use: at Klook, Trip.com, Changi Travel Services, GlobalTix, and Traveloka (full list of merchants here)
SingapoRediscovers Vouchers Saving Tip
Extra Savings & Discounts
Shop with Klook & Trip.com via ShopBack

Up to 4.5% Cashback with Trip.com (attractions & hotels, Web purchases only)

1.5% Cashback with Klook (hotels)

Klook Hotel Promotion

Free $50 Klook Voucher for next hotel booking with minimum $50 SingapoRediscovers Vouchers spent

Exclusive UOB promotion with Klook

Check out using a UOB card 

Enjoy $5 off with a minimum surplus spend of $30

Enjoy $20 off with a minimum surplus spend of $100

Note that this can only be used twice till 30 June 2021
---
Who Can Use the SingapoRediscovers Vouchers?
These vouchers are given to those who fulfil the following criteria: 
Singapore citizens 

18 years old and above in 2020
Children and youths under 18 years old are not eligible for the $100 SingapoRediscovers Vouchers – but fret not! Adult Singaporeans can get up to six subsidised children and youth tickets for local attractions and tours, at $10 off per ticket.
Note that if you're an eligible adult Singaporean has used up all your vouchers, you won't be able to redeem the subsidised child/youth tickets. So make sure you have enough balance (min $10) left if you want to get subsidised rates!
When Can I Use the SingapoRediscovers Vouchers? 
The vouchers can be used either separately or all at once all the way from 1st December 2020 (collection date) till 30th June 2021. Do plan ahead and schedule your trips! 
How To Use the SingapoRediscovers Vouchers?
Queuing can be quite a pain, but the good news is: you don't have to collect these vouchers physically. The vouchers can be collected via SingPass from 1 December 2020. If you don't have an account yet, you can sign up for one here.
Step-By-Step Guide to redeem SingapoRediscovers Vouchers on SingPass
Here's how to use and redeem the vouchers online:
Browse experiences with booking partners approved by the Singapore Tourism Board

(partners include:

Klook

,

Trip.com

,

Changi Recommends,

GlobalTix,

and

Traveloka

)

Add your desired item to your cart

Click on 'Use SingapoRediscovers Vouchers' at checkout page

Login via SingPass here and choose the redeem amount (again, in denominations of $10)

If you are purchasing child/youth tickets for family members aged below 18 – remember to add in their details to receive $10 subsidies per child/youth

Copy the generated code and paste it on the checkout page

Complete the checkout process within 10minutes to complete the booking!
Note that vouchers come in denominations of $10. So any unused vouchers will be wasted.
Let's say your ticket is $15 and you use $20 vouchers (2 x $10) – that $5 is wasted. Tip: Use the $10 ticket and top up $5 with your own money to make the most bang for your buck. If you need help to set up your SingPass account or reset your password, refer to the official step-by-step guides here.
Can I redeem the vouchers from physical counters?
Yes. There will be 69 locations across Singapore provided by authorized booking partners – including 30 by Changi Recommends, 23 by GlobalTix, and 16 by Klook and UOB Travel. For the full-list of physical counters, refer to the sheet here. 
That being said, we highly recommend browsing the packages online via SingPass. This makes the redemption process a lot quicker too. 
Can I redeem the vouchers for my friends/family members/partner?
Unfortunately, the vouchers can only be redeemed via SingPass and cannot be redeemed on behalf of others – family members included. However, do help your friends and family members redeem their vouchers via SingPass especially if they're not as tech-savvy.
Can I combine or stack my vouchers with my friends/family members/partner?
The vouchers cannot be combined or stacked with a family member, friend, or partner since they are meant for personal use. But you are definitely encouraged to visit local attractions and activities with your loved ones!
Can I transfer or sell my vouchers?
Nope. This is to prevent fraud and other kinds of abuses. Also remember not to share your SingPass information with anyone. Keep your older family members notified and remind them not to click on links or messages that direct them to suspicious portals. Especially if the sus-looking source is coming from Whatsapp University.
Can I use my vouchers on F&B or retail stores?
Generally no. However, if the retail and F&B stores are part of an approved package including a hotel stay, attraction visit, or tour – then they may be used. The packages must ensure that the F&B or retail expenditures are incurred during the same period as the hotel stay, attraction visit, or tour.
For example, you purchase a 2-Days-1-Night Staycation hotel package on Klook, and the package includes dining benefits at a hotel restaurant. Then, you can spend it on that particular restaurant.
Where Can I Spend the SingapoRediscovers Vouchers on?
The five authorized booking partners of the vouchers scheme are:
Klook

Trip.com

Changi Recommends by Changi Travel Services (CTS)

GlobalTix

Traveloka
Do check out the full-list of eligible merchants – including attractions, hotels, and tours where you can spend your vouchers  on here. 
Stack Your Savings on SingapoRediscovers Vouchers
$100 might not seem like much – but being resourceful Singaporeans, we got to know where the best deals are. We've compiled a list of pro-tips you need to maximise your vouchers below! #lifehacks 
Shop via ShopBack for Cashback
The great thing is: Klook and Trip.com are on ShopBack! This means that you can get even more savings. All you have to do is simply make your purchases with ShopBack – and you can get up to 4.5% Cashback with Trip.com and 1.5% Cashback with Klook! 
*Note to use your desktop web/extension when purchasing an experience from Trip.com via ShopBack to receive Cashback! You won't be able to receive Cashback via mobile app/web purchases.
Klook Hotel promotion
You can also get a free $50 Klook Voucher for your next hotel booking when you use at least $50 of your vouchers on a hotel stay with Klook!
Klook exclusive UOB promotion 
If you are a UOB cardholder, you can get additional discounts on top of your vouchers when you book via Klook. All you need to do is to check out using a UOB card to enjoy $5 off with a minimum surplus spend of $30, and $20 off with a minimum surplus spend of $100.
Note that each user can only use this promotion twice from now till 30 June 2021.
Here are some examples of the ultimate winning combinations to get the most savings with vouchers (SRV):
Best Experiences to Spend Your $100 SingapoRediscovers Vouchers on!
If you're asking: "Where are the best experiences to spend my vouchers on?" We've got some of our top picks to inspire your next local getaway!  
TLDR: Our Top Picks for Local Attractions & Hotels
Singapore Attractions & Activities
Singapore Staycation Hotels
Best Singapore Tourism Board Approved Local Attractions
Some of you might be wondering – $100 SingapoRediscovers Vouchers aren't lot for a night at a luxurious staycation hotel. However, we guarantee that they are more than enough for a fun-filled day exploring the beauty of Singapore!
We have 5 different activities for different kinds of Singaporeans – the art geeks, the scenery-lovers, and those who just need to sweat it out. 
If you're a huge fan of nature and breathtaking scenery – don't miss out on Gardens by the Bay. Especially now that Christmas is coming (hint: Christmas Wonderland), there will be exciting things to see. Come take a relaxing stroll in the daytime to enjoy the lush greenery, or at nighttime for strikingly beautiful lights. Both the Flower Dome and the Cloud Forest are perfect for mini photography sessions with your loved ones!
2. ArtScience Museum
The ArtScience Museum is a local attraction that I'll personally never ever get tired of. Their exhibitions are always oh-so aesthetically pleasing and interactive. Every now and then, they have new exhibitions so there's always something new to explore. Come immerse yourself in the world of art and science, all while learning more about contemporary themes and local Singapore!
3. Sentosa 4D Adventureland
For the thrill-loving peeps – we've got your back. The Sentosa 4D AdventureLand has 4 exciting rides to bring you close to 4D technology. It's an easy, fun activity, best if you wanna hang out with friends or family members. Don't worry about the little ones, the rides are safe for those above 90cm (for Journey 2, Extreme Log Ride, Haunted Mine Ride) and 110cm (for Desperados). Afterwards, you can aexplore the rest of Sentosa – especially their Skyline Luge and Trick Eye Museum. You can use your vouchers here too!
4. Universal Studios Singapore
Get your adrenaline pumping at Universal Studios Singapore. This local tourist attraction needs no further introduction. It is a cult-favourite amongst adventurous Singaporeans – especially known for their exhilarating roller coaster rides. Experience 7 different zones with 24 blockbuster-themed rides here. Since Christmas is coming soon, immerse yourself in their seasonal special events!
5. Jewel Changi Airport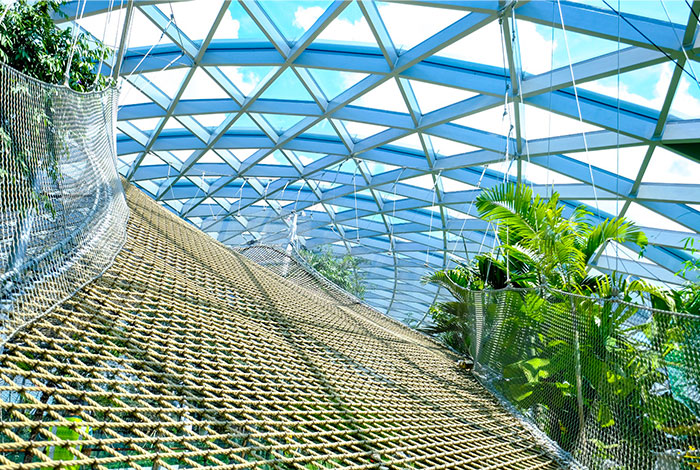 For families with small children, we highly recommend visiting the recreational wonderland – the Canopy Park in Jewel Changi Airport. Located at the topmost floor of this shopping paradise, the Canopy Park has various fun and exciting attractions. Here you can explore mazes, bouncing nets, and beautiful garden trails. If you're not a fan of physical activities, simply come relax and dine amidst the beautiful luscious foliage!
Best Singapore Tourism Board (STB) Approved Staycation Hotels
The staycation frenzy definitely isn't going away anytime soon. Especially now that it's near the end of year, it's high time for Singaporeans to wind down and pamper yourself with a relaxing weekend getaway.
Here we recommend 5 crowd-favourite hotels at different price points, but all with excellent ratings. No matter your final pick, you're guaranteed to have a wonderful experience!
1. Andaz Singapore
Andaz Singapore is a luxury hotel featuring spacious hotel rooms and excellent views. This hotel is situated right at the crossroads of Kampong Glam, Little India, and Bugis cultural districts. Soak in the rich local culture for a true local experience. They're lauded for their hospitality – so you know you're getting your money's worth here! PS: This renowned hotel is exclusively available on Klook.
2. lyf Funan Singapore
For those seeking a new and unique staycation experience – lyf Funan is the hotel to pick. lyf Funan is a rather special hotel, promoting interpersonal experiences. If the idea of living in a dormitory sounds appealing, lyf Funan features many shared spaces. It is no doubt going to be an interesting staycation experience. Who knows? You might even make a new friend here!
3. Shangri-La Hotel Singapore
Perhaps one of the most iconic Staycation hotels in Singapore, Shangri-La Hotel has been serving guests since 1971. They are commonly associated with outstanding service and pristine quality, and promises to whisk you into landscapes akin to Bali. For the foodies who don't want to travel far – there are 11 restaurants in the hotel serving international cuisines. You don't even have to step out of the hotel to get your food! 
4. Yotel Singapore Orchard Road
Arguably the most unique hotel you can find in Singapore, Yotel Orchard has a very futuristic vibe. With purple neon lights and automated robots, Yotel is a peek into what could be the future of hotels. Despite the compact room sizes, everything you need is available in each "cabin". Moreover, it is located right in the heart of Orchard – so you can shop till you drop just a stone's throw away!
5. Sofitel Singapore City Centre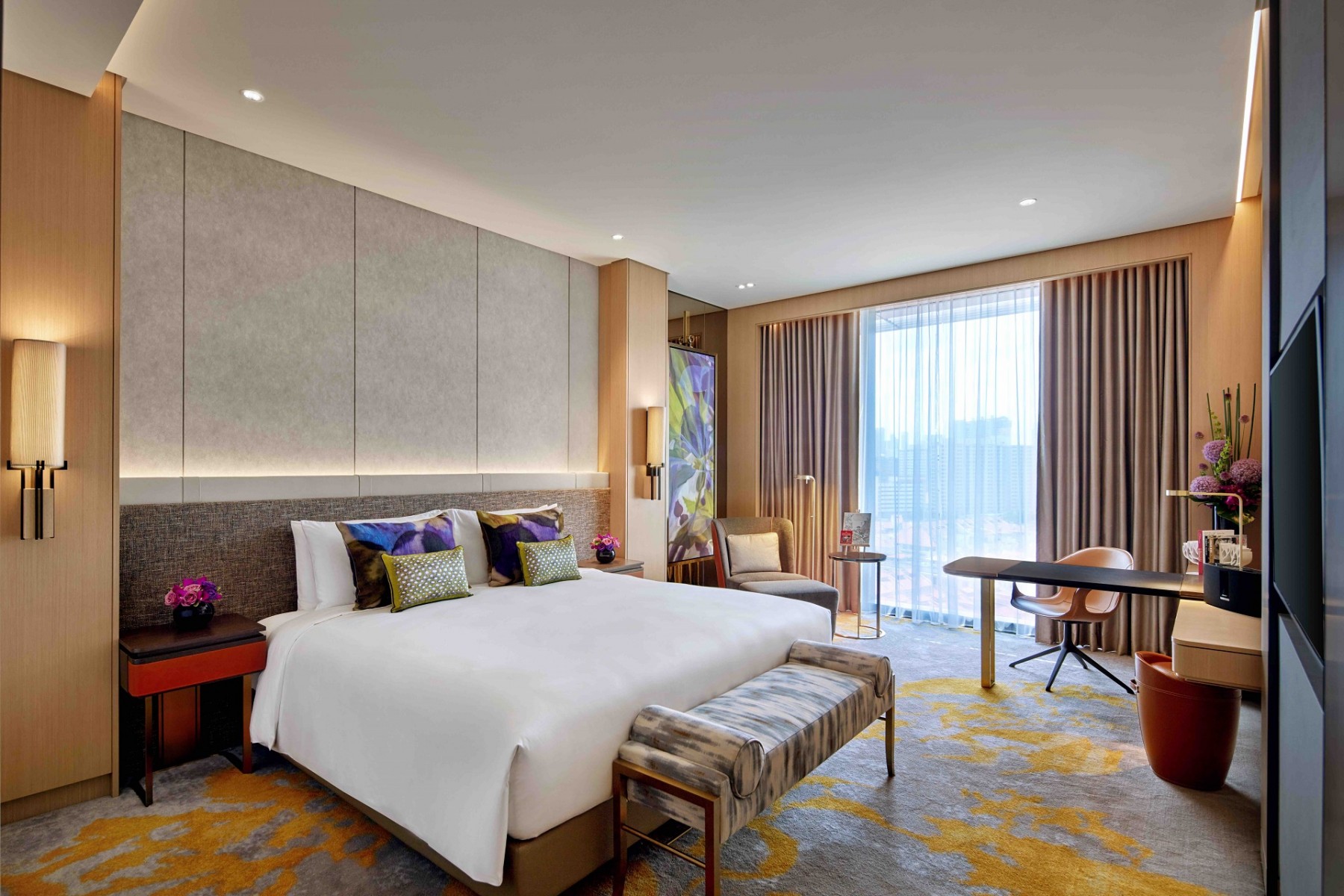 A city sanctuary situated in the heart of Singapore's CBD, Sofitel Singapore City Centre sits at the prime location for you to explore local attractions. This hotel is particularly known for their luxurious contemporary rooms and suites with all the amenities you'll need. The beautiful mix of French art and local culture in this accommodation will definitely blow you away.
Spend Your $100 SingapoRediscovers Vouchers Wisely with Savings
We recommend you to make your plans ahead of time so as to make the most out of the $100. When planning your local travel itinerary, don't forget to purchase local attractions tickets and book staycation hotels via ShopBack to save even more. 
You can get up to 4.5% Cashback with Trip.com and 1.5% Cashback with Klook for approved experiences – and jio your friends and family members too. Don't say we always keep the good lobangs to ourselves! 
All information stated is accurate at time of writing. This article will be updated with more information in the future!
---
Read also:
Recent posts
Related Posts
ShopBack Stores in Other Countries