Japan is expecting a lot of tourists in the coming year. The Rugby World Cup will be held across the nation in September 2019. Not long after, the Tokyo Olympics will be held in the summer of 2020. Hordes of tourists will be looking for places to stay as they support their favourite athletes in the respective sporting events.
Even if you're not interested in these events and Japan is on your travel list, here are all your accommodation options: from the cheapest, the most convenient to the unusual options. We help you find the perfect choice for you.
Ready to get that flight out? Don't miss the Trip.com 8% upsized cashback on flights and hotels from 9 to 11 March. Follow us on our Telegram channel for the latest blog posts and cashback deals.
---
Finding Affordable Accommodation in Japan
The problem of Airbnb and the new Minpaku law
In June 2018, Japan enforced a new Minpaku (private residence for short-term rent) law. The new law placed further restrictions on private residences that were rented out for short periods, aka Airbnb. The new law forced many hosts to cancel their bookings with their guests and severely limited the availability of accommodation to tourists on short notice.
Two of my Airbnb hosts abruptly cancelled on me when I spent a few months in Japan last year. This caused a real headache for me as I wasn't ready to spend a bomb on a hotel for just a few nights.
So, as a tourist what are my options for other types of relatively affordable accommodation in Japan?
Type of Accommodation
Lowest Price/ Night
Selling Point

Airbnb

S$30

Budget

Experience

Love Hotels

S$70

Experience

Amenities

Business Hotels

S$50

Amenities

Capsule Hotels

S$30

Budget

Manga Internet Cafe

S$30

Budget

Ryokans

S$100

Experience

Comfort
1. Airbnb (from S$30/ night)
| Pros | Cons |
| --- | --- |
| Affordability | Limited Availability |
| Cosiness | "Risky" External Transactions |
Airbnb isn't totally out of the equation. Hosts have to go through a more troublesome process of applying for a license and can only rent out their residence for 180 days in a year. You will still be able to find Airbnb listings in Japan but a substantial number of hosts dropped out of the platform after the new law kicked in.
It is still my first choice of accommodation when I travel overseas. Personally, nothing beats the experience and homeliness.
Loopholes?
However, this phase of adjustment and transition has come with a few loopholes. As Airbnb takes note of the number of days each host rents out their residence, some bookings were automatically cancelled when the limit was hit. Some hosts take on extra bookings outside the Airbnb platform which is against Airbnb's policy.
After being cancelled on, one of my hosts contacted me through Whatsapp to continue with the arrangement. As I was desperate and afraid to become homeless for a night, I accepted this deal. We agreed to a fixed fee and I paid the host in cash when I stayed over.
Another host of mine adjusted the dates of my stay and let the booking remain pending on Airbnb's system. This host then contacted me through email and assured me the original arrangement was maintained.
There is a level of risk when you transact with a host outside of the official platform. I recommend not to make any external transactions with hosts. If you're new to Airbnb, it's best to read this guide beforehand to get the best experience.
2. Love Hotels (from S$70/ night)
| Pros | Cons |
| --- | --- |
| Convenient Locations | 'Dodgy' Vibe |
| Many Entertainment Amenities | Slightly Expensive |
| Unique Decor | Less Accepting of Tourists |
Don't write off love hotels in Japan just yet.
Love hotels are in abundance in major cities across Japan. If you're out of luck and can't find a place to stay in the bustling cities of Tokyo and Osaka, you can book a love hotel. These hotels can be easily differentiated from the rest with their bright neon signs and outlandish decor.
Love hotels are slightly more expensive compared to business hotels. But they come with many other amenities like in-room karaoke, jacuzzi tubs and other unique features to spice up the lovers' experience. This makes it more affordable than heading to a private onsen and karaoke any other day.
Value for money?
It is not uncommon for tourists who aren't looking to do anything 'dodgy' to book a love hotel. They are usually located in very convenient areas (the heart of Shinjuku and Shibuya) and come with great entertainment facilities.
They're perfect for you if you're into the wacky decor and love having entertainment facilities right at your fingertips. Rooms are usually decorated in themes and there are many videos showcasing quirky features like a soft toy room (it is literally a room filled with soft toys).
There are also more tourists who use love hotel rooms for all-girl slumber parties or a girls night out. Thanks to the services love hotels provide, slumber parties seem like a great idea. Furthermore, Airbnb hosts are usually against parties being held in their accommodation.
On the other hand, bookings really depend on the establishment. Some love hotels may turn away tourists who are not fluent in Japanese while some turn away same-sex couples.
Try hotels owned by the Bali An Group or use this platform for more foreigner-friendly establishments.
If you are confident in your Japanese and don't mind the novelty of it all, this is definitely worth a try.
3. Business Hotels (from S$50/ night)
| Pros | Cons |
| --- | --- |
| Availability | Slightly Expensive |
| Relatively Safe | Drab Decor |
| Many Amenities | Small Room |
If you don't mind staying in a small but simple hotel room, business hotels are worth a look. Usually, they cater to businessmen on short work visits. Thus, the hotel room may look drab but it is equipped with many essentials.
If you're travelling in twos or threes, business hotels will stretch your dollar (or yen in this case). Usually, they are equipped with a queen sized bed or doubles upon request. Additional amenities include a TV and a bathtub.
There are a number of hotel chains and we recommend the ones below.
Toyoko Inn – has free buffet breakfast
Dormy Inn – has an onsen (depending on location)
The B Hotel – free coffee machines in the lobby
Super Hotel – free breakfast
There are other business hotels which you will be able to book through our partners Booking.com, Agoda, Expedia and Hotels.com as well.
4. Capsule Hotels (from S$25/ night)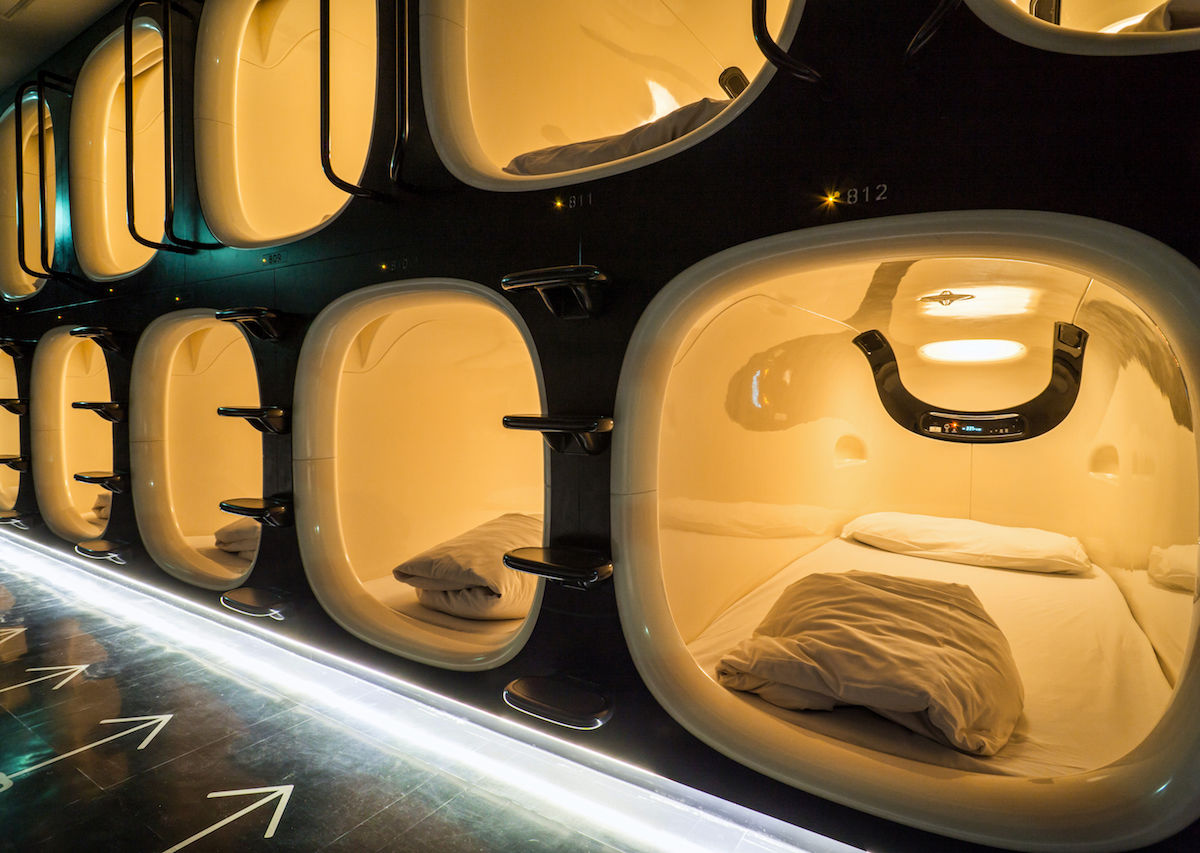 | Pros | Cons |
| --- | --- |
| Affordability | Uncomfortable |
| Increasing Availability | Mostly for Men Only |
| Unique Experience | Troublesome Rules |
Capsule hotels in Japan are affordable and unique. Salarymen usually use capsule hotels when they miss the last train after a night at the bar. Occasionally, they use it when taking business trips to different cities. Some tourists also use it to keep to a budget and for the 'experience' of it all.
If you're a light sleeper I personally do not recommend sleeping in a capsule hotel.
Many capsule 'rooms' have a privacy curtain but these curtains do little to block noise out. Capsule hotels also squeeze almost 20-30 capsules in one area. So imagine the shuffling of feet, snoring and the whirring of ventilation fans as you try to sleep.
I stayed up all night when I booked a capsule hotel and found it troublesome to access my belongings in a locker in another area/ floor. I was told that I was not allowed to bring my backpack into my capsule with me.
Also, you need to check-out of your capsule every day of your stay. In short, you will have to change capsules for every night of your stay.
However, if the idea still excites you, I recommend checking these chains out:
Nine Hours Narita Airport – convenient for connecting domestic flights from Narita
Green Plaza Shinjuku – many amenities like spas, massages
Hotel Asakusa & Capsule – cheap
Capsule Value Kanda – cheap
5. Manga Internet Cafes (from S$30/ night)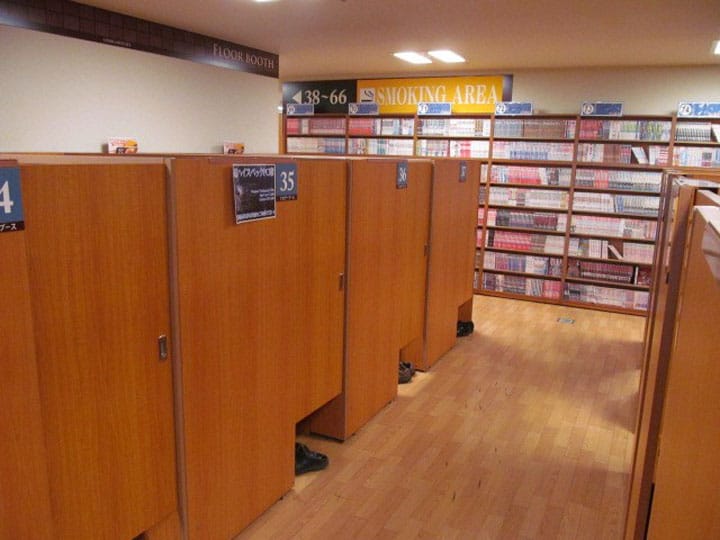 | Pros | Cons |
| --- | --- |
| Affordability | 'Dodgy' Vibe |
| Privacy | Uncomfortable |
| Comes With A PC And Manga Books | Showers Need To Be Booked |
Manga Internet Cafes are becoming a popular option for tourists. As the name suggests, you can book a booth in a "cafe" which provides manga books and a computer for a fee. Imagine a LAN shop but with a small private booth, shelves lined with manga books, shower facilities and a coffee machine.
Manga Cafes are helpful when you simply have nowhere to spend the night and want a cheap option. You can book for slots by the hour, half-day or for a night's stay.
Manga cafes are generally cheaper than hotels and hostels and come with more privacy. Although comfort is not guaranteed.
You can also choose to have a reclining chair, sofa, or padded floor in your room. If your choice is to spend the night, I recommend the sofa or padded floor.
Apart from the lack of comfort, some places can seem dodgy. However, manga cafes are convenient and can be easily found near train stations and popular tourist areas.
Here are some recommendations:
GeraGera Manga Cafe – many branches and affordable
Nagomi Net Cafe – pretty high-end manga cafe with breakfast option
Media Cafe Popeye – option for a shared area or private booth
Manboo! Manga Cafe – includes extra services like a manicure for ladies and discounts for ladies
Takarajima24 – pricier but has VR games and karaoke (some branches)
6. Ryokans (from S$100/ night)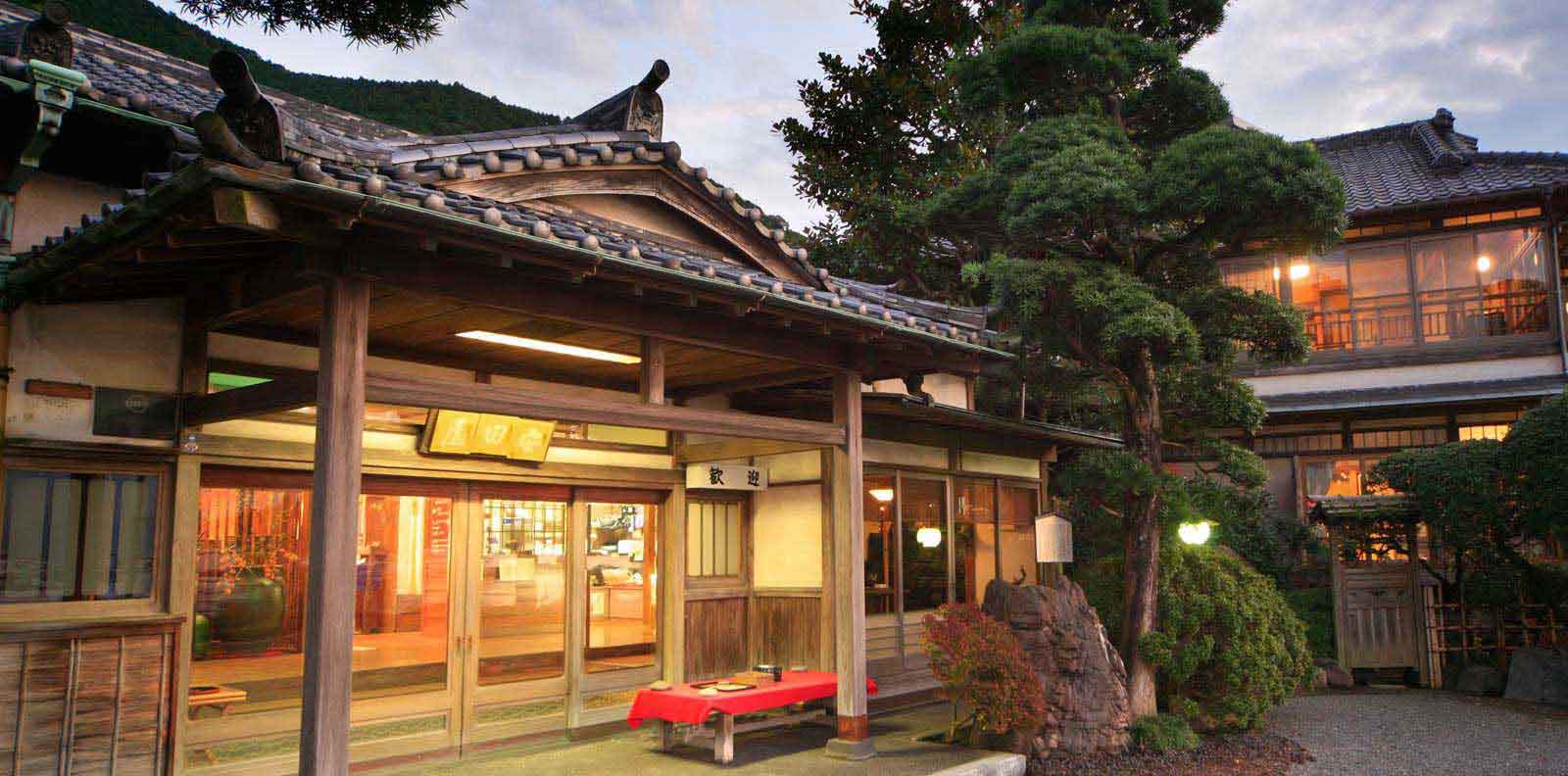 | Pros | Cons |
| --- | --- |
| Unique Experience | Expensive |
| Curated Meals | Strict Etiquette |
Ryokans are traditional inns may not be the most affordable form of accommodation in Japan. However, it is definitely a uniquely Japanese experience.
A ryokan usually comes with tastefully decorated rooms, a dining room with a curated menu and onsens. As service and experience is usually the main selling point, stays can be relatively expensive.
Our tips for saving on costs to book a ryokan would be to look for inns which offer a shared dining area and accommodations which are bigger in size. Inns with private onsens are also slightly more pricey. Generally, all ryokans uphold high standards and it really depends on which one you opt for based on location.
Search for ryokans on these platforms:
Japanican – https://www.japanican.com/en/
Japanese Guest Houses – https://www.japaneseguesthouses.com/index.htm
Jalan – https://www.jalan.net/en/japan_hotels_ryokan/
Tip: Ryokans follow a set etiquette so please ask your host or the staff about them during your stay.
---
7. Other Unique Japanese Accommodations
Some of our fellow ShopBack community members recommended a couple of unique Japanese accommodations. They might not be the most affordable but definitely impossible to find anywhere else outside of Japan.
Keio Plaza Hotel Tokyo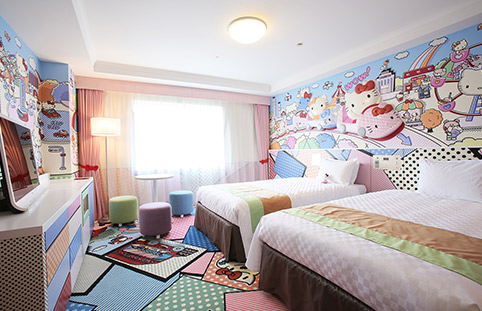 Keio Plaza Hotel collaborated with Sanrio to bring four Hello Kitty themed rooms for guests. The hotel also plans to bring more Sanrio character themed rooms in 2019 with My Melody and Little Twin Stars. This is a must if you are Hello Kitty fan.
Hotel Gracery Shinjuku
Like having a mini heart-attack the minute you wake up? Well in Shinjuku you can believe for a moment that a big giant lizard is terrorising Tokyo. At Hotel Gracery Shinjuku, you can have a view of the Shinjuku Godzilla head statue from your room. Some rooms also come with a Godzilla memorabilia pack which include a tote bag and mug.
Not sure if you should buy a JR Pass? Find out what's the best way to travel in Japan here!
---
Many tourists still opt to stay at the good old hotel (many of our Shopbackers too have not stayed at Airbnb, Manga Cafes and Ryokans before). However, other forms of accommodation might be a better choice depending on your travel plans. They could also definitely help with your wallet.
There are amazing travel promos coming your way. Don't miss all the deals on hotels, flights, travel insurance and more here.
*Featured Image credit: Unsplash.com.
Abel Tesfaye
Aiman is a huge fan of Dad Jokes. Here's one: In a boomerang shop: "I'd like to buy a new boomerang please. Also, can you tell me how to throw the old one away?"
Recent posts