Movie night will never be the same once you get a projector. Sure, getting a huge LED 4K TV might work and get the job done but you'll never really feel immersed. The slight grain from a projector screen and the endless variations for screen sizes comes as close as booking seats at Cathay's cinemas.
Even if you don't intend to splurge and only want to use a projector every once in a while as an excuse to make popcorn, there are affordable options available. You could also get a mini projector prepared for the next slumber party at a friend's house.
Grab some crazy discounts on tech devices like projectors with ShopBack's IT Show sale!
---
| Projector | Price | Highest Resolution |
| --- | --- | --- |
| Y300 LED Portable Projector | SGD$48 | 1080p |
| Anker Nebula Mars II | SGD$799 | 720p |
| BYINTEK SKY K1 | Approx. SGD$155 | 1080p |
| Epson Home Cinema 2100 | Approx. SGD$1,100 | 1080p |
| BenQ MH530FHD | Approx. SGD$580 | 1080p |
| BenQ HT2550 | Approx. SGD$ 1520 | 4K |
| JVC DLA-NX5 | Approx. SGD$8,600 | 4K |
| Optoma UHD51A | Approx. SGD$1900 | 4K |
Best of The Best
1. Optoma UHD51A
"Go big or go home". With Optoma you're definitely going big. Optoma UHD51A is a 4K projector that delivers crisp and clear images without being too expensive. Despite its slightly more affordable price tag, it handles black levels well enough compared to other projectors in the same price range. The projector also does well with 1080p and standard definition content.
On top of its screening capabilities, this model works with Amazon Alexa and Google Home. So if you're lazy to reach to the projector to pause or play, you'll do fine with calling out voice commands.
However, the projector lacks a bit in the brightness department which may affect viewing in the day.
2. JVC DLA-NX5
The JVC DLA should be the centrepiece of any dream home theatre set up. This projector comes with 4K capabilities and is equipped with a wide colour range and great contrast. Because of its high contrast, it can deliver deeper blacks which means greater detail in darker themed movies (looking at you Justice League).
As compared to other 4K projectors, this model is pretty bulky. Constant shifting or change of arrangement of the projector is going to be pretty troublesome as it needs to be permanently mounted for proper viewing.
3. BenQ HT2550
The BenQ HT2550 is an entry-level 4K projector which is largely more affordable than many. It performs well enough in the 4K department and has good brightness levels for watching in the day.
However, the relatively affordable price means some drawbacks. The blacks delivered through the projector are not satisfyingly deep enough and there is a bit of noticeable fan noise.
If you're keen on a high-end projector but not willing to break the bank just yet, this BenQ model is recommended.
---
Affordable Options
4. BenQ MH530FHD
Widescreen TVs are getting more innovative with curved screen features and continually improving visuals. However, the costs of these TVs are rising and getting inexplicably expensive. Anything above 50-inch will cost you a bomb.
If you're not willing to sacrifice a huge chunk of your money for a big screen experience, the BenQ MH530FHD fits the bill. It comes with full HD and is sufficiently bright for a projector.
On the downside, this model's affordability means it hardly outperforms an average projector. Plus, you most likely have to replace the projector bulb after 4,500 hours of use.
5. Epson Home Cinema 2100
The Epson Home Cinema 2100 is another great choice for a budget projector. The widescreen full HD projector has very good colour accuracy and brightness because of its 2,500 lumens which are equally for colour and white brightness. If your home theatre space has a lot of ambient external light, this model is recommended.
The projector also comes with a mono speaker which you can use in times of desperate need but we recommend just hooking up a pair of speakers.
---
Portable & Compact
6. BYINTEK SKY K1
Slumber party animals can enhance their movie night experience with lightweight and portable projectors. The BYINTEK SKY K1 projector weighs around 300 grams and is roughly the size of a comprehensive Oxford dictionary book.
The BYINTEK SKY K1 comes with WiFi, HDMI and USB functionality which makes it easy to use no matter the source of your video. However, because of its size and price, it's resolution maxes out at 1024×768.
On the flip side, it has a battery making it pretty portable and can be used as a portable charger.
7. Anker Nebula Mars II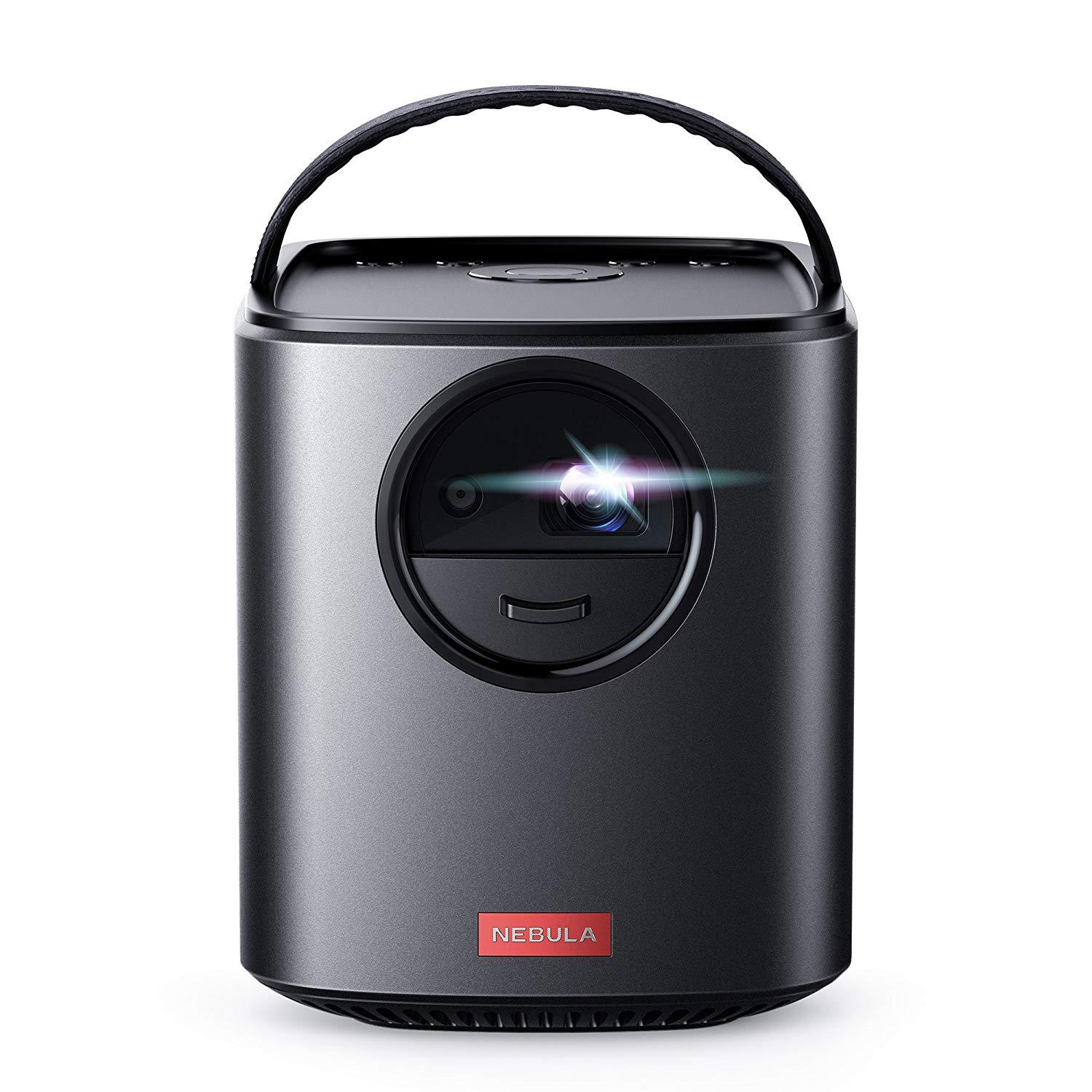 The Anker Nebula Mars II embodies the word "portable". This mini projector is shaped like an amplifier and has a handle installed into it to help with carrying. Much like other compact projectors, the Nebula Mars II can only project videos up to 720p.
Despite its relatively large battery capacity, it can only last up to 3 to 4 hours in one full charge. The option to power it up directly is also available.
As mentioned earlier, it is shaped like an amp and can also technically perform like one. The built-in speakers do a decent enough job and if you don't feel like watching movies with your friends, you can use it as a portable bluetooth speaker.
8. Y300 LED Portable Projector
Imagine the power of a projector the size of your hand. The Y300 LED Portable Projector easily fits into the palm of your hand and only weighs 300 grams! It is not bigger than your average wallet and easily fits into your pocket.
This works best for casual viewing when you travel plus it won't cost you much.
Despite its small size and budget price tag, the projector supports viewing in 1080p resolution! Strictly for non-fussy buyers who just want a basic experience with their movies or games.
---
Keep updated on the latest tech deals and blog posts on our Telegram channel!
Aiman Mohamed
Aiman is a huge fan of Dad Jokes. Here's one: In a boomerang shop: "I'd like to buy a new boomerang please. Also, can you tell me how to throw the old one away?"
Recent posts
Related Posts
Free Movie Screenings That You Can Watch On The Weekends
04/05/2019
In "Lifestyle"
8 Fun Things to Do in Singapore that Cost ABSOLUTELY NOTHING
03/12/2014
In "Lifestyle"
Popcorn Singapore: The Smarter Way to Enjoy Movies
14/06/2018
In "Entertainment"
Do you want to be a contributor?