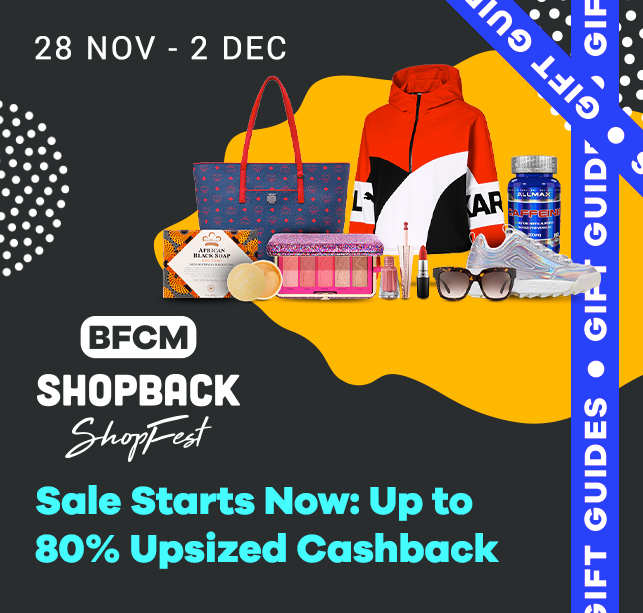 Dyson 20% Flash Item at 12am Daily from 29 Nov - 2 Dec
29 Nov, 12am: Dyson V8 Carbon fibre
30 Nov, 12am: Dyson Pure Cool Advanced Technology Tower TP04 (White/Silver)
1 Dec, 12am: Dyson Pure Cool Advanced Technology Tower TP04 (Iron/Blue)
2 Dec, 12am: Dyson Cyclone V10 Fluffy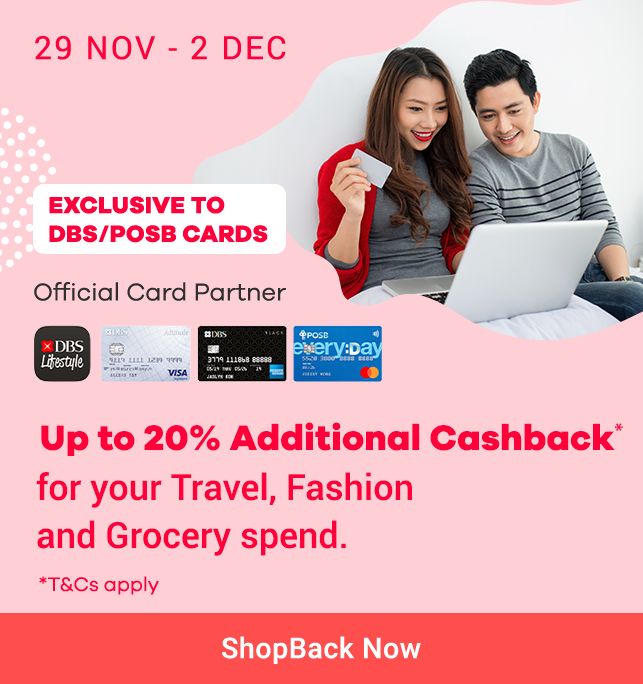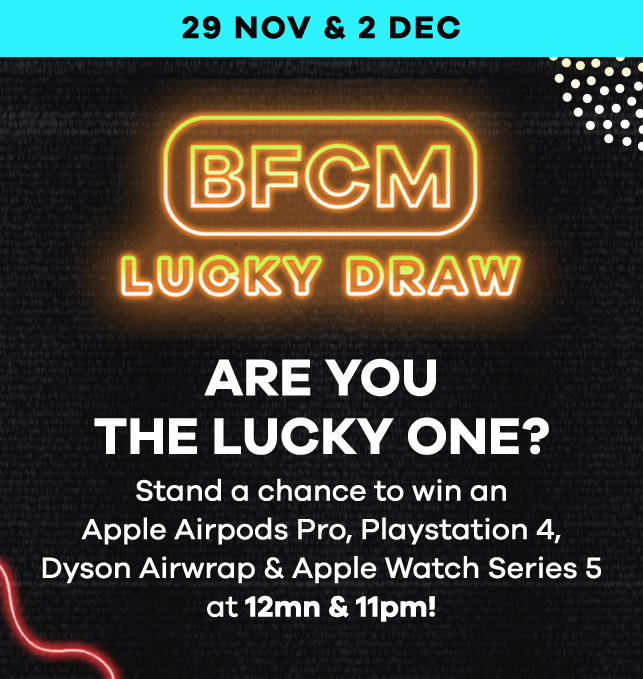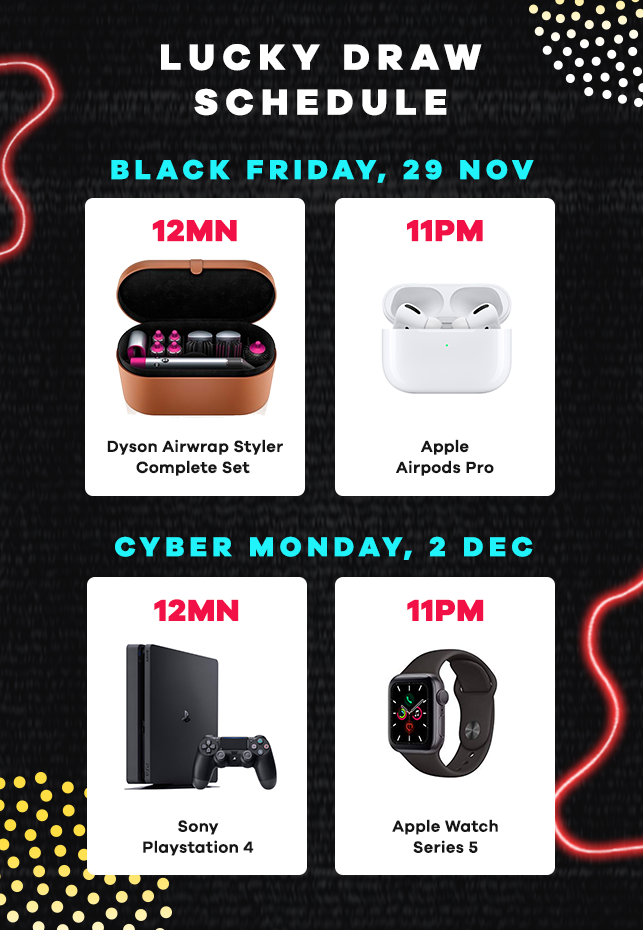 Stay Tuned for ShopFest Black Friday Sales 2019!
Join in the United States' largest sales with the Black Friday sale! Held on the Friday after Thanksgiving, Black Friday 2020 is an online shopping extravaganza that should definitely not be missed! Great ShopFest Black Friday deals await you, and, if you shop online with ShopBack Singapore, you won't even have to queue and jostle with others to get Black Friday special deals.
Join in the Black Friday Singapore sale, and you will never be short for deals offered by online retailers!
Black Friday is held on the Friday after Thanksgiving in the US. It is a day of sales on a massive level. Many forgo sleep to queue at physical stores, just to enjoy special Black Friday promos that US retailers have rolled out for their special customers. This signifies the beginning of holiday shopping (especially for Christmas) and therefore, there are a whole host of Black Friday promotions. The name of "Black Friday" stems from retail store ledgers finally being "in the black" other than "in the red". Traditionally, many would scramble and fight in stores for the best Black Friday promotion, but now, with the ability to shop online, shoppers can cut the queue and fuss from the comfort of their home.
Black Friday Sales knows no sleep
Just like the physical sales in the United States, the online Black Friday knows no bounds. There are no such things as opening hours, only great ShopFest Black Friday offers, and those strong enough to resist sleep to enjoy all Black Friday special offers that have been rolled out.
So grab some Black Friday coupon codes, make a list of everything you want to buy, and get ready because it is fastest fingers first, and you want to spend your time checking out your cart that is full of goods and discounts, not bumming around the net still looking at things you can buy.
Take the time out on Black Friday to order the latest fashion—with Black Friday discounts! There will be many a Black Friday deal, so select the best look to fit your needs with ShopBack Singapore's wide selection of fashion merchants, and get some great Black Friday discount coupons. Check out some of the best Black Friday clothing sales and Black Friday shoe sales this year for a fresh change. Ladies, your quest for comfy new heels is here with the trendiest Black Friday shoes 2019. Alternatively, get some new sneakers for a chic and comfy wear for all occasions. For men, maybe accessorize with Black Friday watch deals, grabbing a new watch for work or casual dates. Be it work clothes, or just simply some online retail therapy, ShopBack Singapore's merchants are more than happy to aid you in your quest to having an awesome wardrobe ready for any event.
Electrifying sales with Black Friday 2019 electronics
Get your favourite electronics at a significant discount with a good Black Friday promo code. There are lots of other electronic gadgets not to be missed this Black Friday electronic sales. Looking for a new computer? Then look no further for the best Black Friday laptop deals 2019. Black Friday laptop sales put the lowest price point of different styles of laptops, catering to your budget and functionality. Whether you're a student with a need for a light-weight and portable laptop to write essays on the go or a hardcore gamer who needs lots of RAM, find them all online on Black Friday. For those who would like a desktop, Black Friday PC deals will provide you with all the options you need! What style you choose, the best Black Friday computer deals are up for grabs. With the Black Friday computer sales, it's time to upgrade your existing computers!
Photo-enthusiasts heads up! Black Friday camera deals will not only give you options to the newest cameras and related tools and lenses, but also a better price to save your wallet. Photography can be an expensive hobby, especially when trying to keep up with the latest camera models or lenses equipment. This is where the Black Friday camera sales come in handy! A search on cameras Black Friday 2019 will deliver to you some of the best discounts on the web (and if you're not sure where to start, try our merchants right here on this page, with ShopBack cashback ready)!
On the search for a new phone? Black Friday phone deals 2019 will help pit the most competitive prices with attractive discounts. Besides the Black Friday phone sales, don't miss the Black Friday iPad deals as well, especially for the tablet users. Remember the long queues outside Apple stores for the latest apple gadgets? Now with iPad Black Friday sales, you can skip the wait and get it delivered to your doorstep. Black Friday iPad deals will give you the best price whichever style of tablets you are looking for. Popular models iPad Air 2 Black Friday and iPad Mini Black Friday are both highly soughted in the last season, and no doubt this year will bring forth similar or even better deals.
For the tech savvy or the average user, don't miss out on the best Black Friday electronic deals. Cameras, PC, iPad and more, Black Friday tech deals will only have you craving more. Whatever Black Friday electronics you can name, there's bound to be one you can find online, all at the convenience of your couch. The best Black Friday deals 2020 has to offer for all your electronic needs can be found here on ShopBack's electronics page, so feel free to check out whatever you might need. There really aren't any promotions better than what you can get with a Black Friday offer.
Black Friday furniture sales to revamp your house
Bring a change not only to your wardrobe but your whole house with spanking new furniture Black Friday. Imagine a brand new shelves for your books, or a new closet for new clothes. Maybe some upgrades to the kitchen tables or living room couches? Black Friday furniture deals got you covered in discounts and cheaper shipping fees, perfect for delivering large and bulky items to your door.
The best Black Friday TV deals will also give you the chance to install a new screen for a movie-like experience in the comforts of your own home. Whether you need a new TV in your refurbished room or switch out your old set in the living room, Black Friday TV sales will give its consumers the best offers yet.
Best Black Friday gifts to shop for loved ones
As the year draws to an end, it's now time to clinch those nifty gifts for your loved ones. Children would be pleased with Black Friday toys, and for the adults with a child within them, why not opt for gaming consoles. PS4 Black Friday sales and Xbox One Black Friday sales bring large discounts for the above consoles. For those who prefer a desktop, perhaps a gaming laptop Black Friday 2019 to stay updated with the best system for a seamless game play. Top it all off with Black Friday headphone deals, giving you the sweetest pricing for a headset, especially for the MMORPG gamers who need all the full sound system and communication with their teammates from across the globe. On the other hand, if you want to treat yourself to a holiday, what better time than to book now with a Black Friday special offer?
Find the latest Black Friday Singapore deals
Many online retailers will be giving out Black Friday promo codes to you, so be sure to look for your favourite online retailers and collating them. Or, if you have noticed, ShopBack Singapore has a collated list of discounts for you which you can look through to look for the best Black Friday discount codes. This would help you save both your time and effort, because everything is already ready for you—you just need to sit back and enjoy the Black Friday sale.
Stay Tuned for ShopFest Cyber Monday Sales Singapore 2019
When it comes to the best flash sales and deals, you can't beat ShopFest Cyber Monday. It is definitely one of the biggest online-shopping days in the year, with attractive ShopFest Cyber Monday deals that span across all product categories. The biggest Cyber Monday sales often come from the biggest merchants around, Zalora, Lazada and more, and you can enjoy the very best Cyber Monday discounts from these merchants right here at ShopBack Singapore!
About Cyber Monday at ShopBack Singapore
Cyber Monday started off as a marketing term for the Monday after the Thanksgiving holiday in the United States as a way to persuade people to make more online purchases. Now, it comes to Singapore in a big way. ShopBack Singapore presents to you our list of irresistible Cyber Monday deals and discounts, so you won't miss out on the biggest online shopping festival right here in our beloved lion city. Looking out for a product in particular? There are exclusive Cyber Monday discount codes to help you get the very best prices out of those products, no matter what merchant you buy from here.
Great Cyber Monday promotions for Fashion
Cyber Monday has always been the greatest day for Fashion retail, because it traditionally has the biggest voucher codes or discount codes for apparel, shoes, bags and accessories. There was an average of 45% more Cyber Monday offers for clothing than anything else for the last few years, and they always included the biggest merchants and brands. Brand-name T-shirts with the most iconic designs, the smoothest midi-skater dresses with matching black platform shoes or the prettiest bohemian printed smock dresses, you can expect the poshest and most sophisticated fashion items right here. And because we understand you want more value out of your purchases, we present to you our catalogue of great Cyber Monday promo codes and coupon codes to help you get that little extra.
The best Cyber Monday deals for your Electronics
We have heard about Black Friday deals extending into Cyber Monday offers, especially when it comes to awesome electronics deals. Many people wait till Cyber Monday to find the best discounts and promotions for every form of appliance, gadget and computer. And if you wondering about what to buy on Cyber Monday, you can always count on gadgets being one of the very best things to go for. Expensive, flagship phones are heavily slashed in price, as are popular IT products like the Apple TV or the Chromecast. Laptop deals and Cyber Monday deals on cameras are also really frequent.
For home appliances, you can also expect the cheapest prices with Cyber Monday coupon codes, and we are talking about sought-after ones such as Nespresso coffee machines and Dyson DC54 allergy bagless vacuum cleaners. Don't miss out on the best online Cyber Monday deals for your electronics today!
Get your mobile work or gaming system with Cyber Monday laptop deals!
Looking to get a new rig for work or for leisure? Why not shop during this festive shopping season! Some of the best savings await you with Cyber Monday laptop deals going on everywhere. The savings you make will allow you to enjoy great quality at great prices. So why not go for something higer-specs? So you can get an edge both in the workplace and in the gaming arena!
Do some Cyber Monday shopping for lifestyle needs
Craving for some cards against humanity or Gillian Flynn thrillers? You will be finding the most attractive prices on eBay, Better world books and other merchants on Cyber Monday. Make no mistake, Cyber Monday 2020 deals are plentiful when it comes to lifestyle products. Never feel the burden of buyer's remorse with ShopBack's Cyber Monday offers. See prices getting slashed up to 80% or sometimes even more. With such Cyber Monday discounts and Cyber Monday codes, getting a delightful Dreamcast t-shirt at eBay is really a cheaper affair than it already is. Whether you are shopping at Lazada or Groupon Cyber Monday will be just fantastic for your lifestyle shopping. Don't miss out on all our exciting Cyber Monday promo codes!
Never let your Black Friday or Cyber Monday sales ever end with ShopFest
Black Friday is the one holiday when you can find the best physical store coupons and vouchers for every single kind of product you'd want. Cyber Monday promotions are really no different. If you are wondering about what is Cyber Monday, the term itself is self-explanatory. Cyber is really a term to describe the Internet, which is where you can find the best shopping sites, and deals such as Amazon promo codes and Cyber Monday deals at Amazon and, of course, our own Cyber Monday promotions. The allure of doing your online shopping on this exciting day itself is all about getting the most unbelievably big Cyber Monday deals. It's like giving you a chance to relive the best shopping day of 2014 Black Friday all over again.
ShopBack Singapore gives you cashback on top of all our Cyber Monday promotions
Come Black Friday and Cyber Monday, ShopBack is the special place in Singapore that you can get cashback for all your e-purchases or even on your travel bookings with Black Friday Cyber Monday Travel deals. The great thing about cashback is that you won't even need any Black Friday or Cyber Monday codes or promotions to enjoy it, but we are always glad to offer you the most attractive Black Friday offers and Cyber Monday promo codes anyways. With our unbeatable combination of Black Friday or Cyber Monday deals and cashback rebates, you will definitely get the absolute best deal and the best savings here on the biggest online-shopping day of the year!