Anantara Deals, Offers & Promo
Exclusive offers at Anantara Hotels and Resorts
Refer to Merchant website for terms and conditions
ShopBack must be the last link you clicked in order to get Cashback. If other website links are clicked after clicking through ShopBack, Cashback will not be tracked (E.g. coupon and deal websites)

If for some reason your payment made on merchant page has failed, do click through ShopBack again and re-do your purchases to ensure tracking is still active

Return to ShopBack and click through to the merchant every time you are making a new transaction.

If you are making 3 separate transactions on the merchant, you should click through ShopBack 3 times, each time before making a new purchase.

For more details: www.shopback.sg/terms-and-conditions
More about Anantara
Anantara, Your choice of Accommodation For A Relaxing Vacation.
Anantara is a chain of luxury hotels, resorts and spas providing exceptional experiences to travellers. A member of Global Hotel Alliance (GHA), the largest alliance of independent hotel brands in the world, Anantara is the proud owner of over 40 properties across Africa, Europe, Asia, Arabia and the Indian Ocean. Each of these hotels and resorts are an epitome of luxury and hospitality.
Indulge in the grandeur of Anantara's unique and sophisticated décor that draws inspiration from historic heritage, rich cultural traditions and natural beauty of its destination. Make your vacations memorable by staying at Anantara hotels and resorts. To book a room at their hotels, log in to the official website of Anantara and embark on a journey full of adventure and extravagance.
History of Anantara
Anantara was born in 2001, with the launch of its first seaside resort in Thailand. 'Anantara', a Sanskrit word, meaning 'without end' evokes a sense of freedom, movement and harmony, which is what the hotel chain intends its guests to experience. After Thailand, Anantara launched another resort in Maldives in 2006. The resort was unique as it provided an opportunity to its guests to experience a remote island getaway.
The success of Maldives resort inspired many other luxury resorts at exotic locations such as Anantara Phuket, Anantara Bangkok and Anantara Bali. The chain of resorts expanded over the next decade to many more breath-taking destinations across Asia and the Middle East.
Services Offered by Anantara
Anantara is known for its world-class amenities and hospitality. The chain of hotels and resorts offers a variety of services that will leave you spellbound. On the official website of Anantara, customers can find a 'Destination' button from where they can select the hotel/ resort according to their preferred destination. Here is a short preview of all the available service categories at different resorts of Anantara:
Dining: Anantara hosts a variety of exquisite restaurants. From under-ocean fine dining restaurant at Anantara Maldives to signature gourmet destinations at exotic locations, Anantara has a lot to offer. Simply explore the dining category and make reservations for an extraordinary meal with your loved ones at their top-notch restaurants.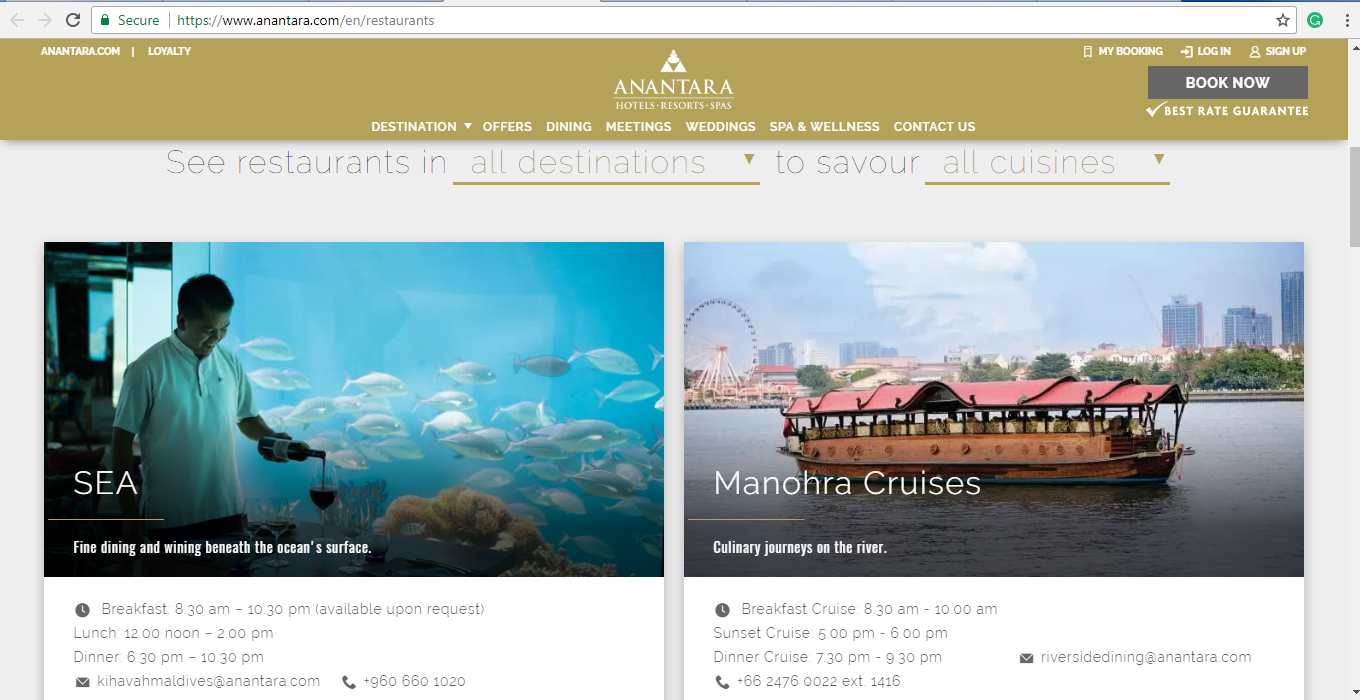 Meetings: Under this category, guests can select an ideal venue to organise important meetings or events at Anantara's elegant ballrooms or high-tech boardrooms. The meetings section on the Anantara website lists all the event spaces at different resorts of the hotel chain. Customers can go through the specifications such as number of guest rooms, maximum capacity, distance from airport and other details and choose the best suited event room.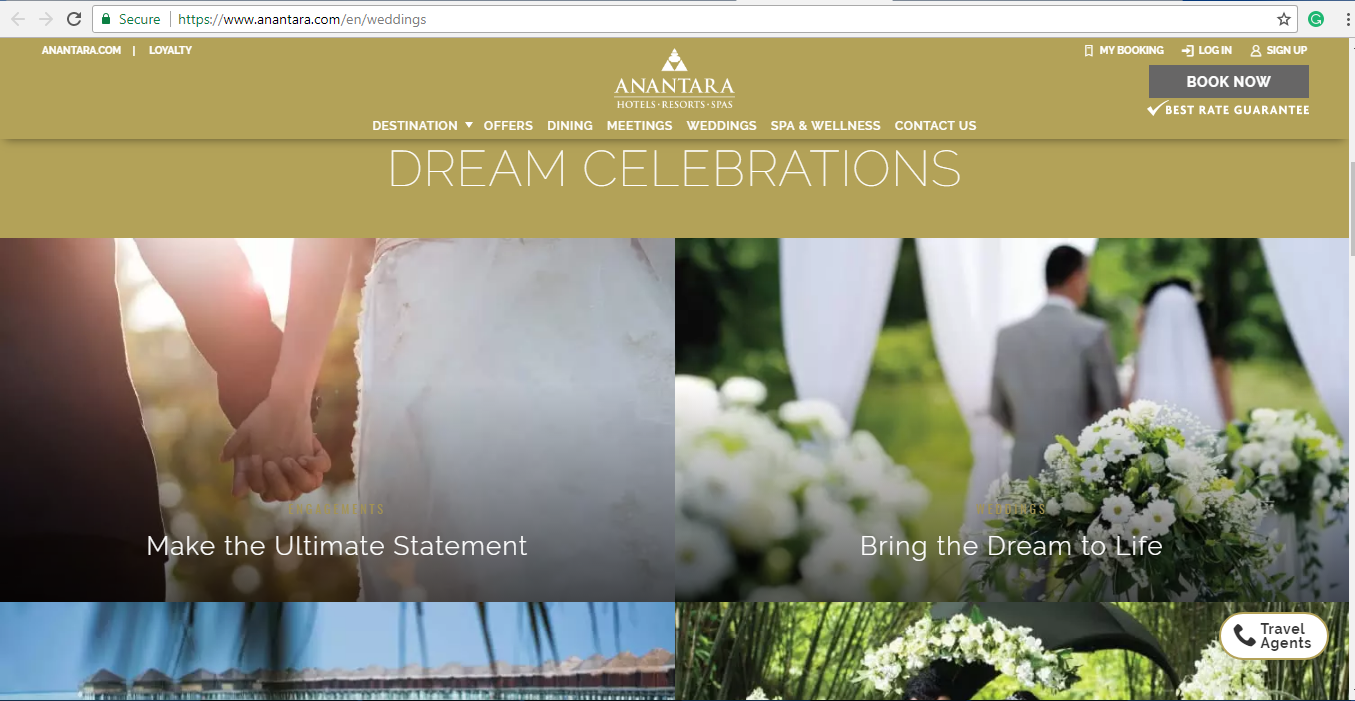 Weddings: If you are planning to get married in an exotic location amidst breath-taking backdrops and luxury, then Anantara hotels and resorts are the best choice. The wedding and event planners at Anantara resorts are always available to fulfil all your fantasies for your special day and turn it into an unforgettable experience. Select the destinations listed under this category and plan your dream wedding with experts at Anantara.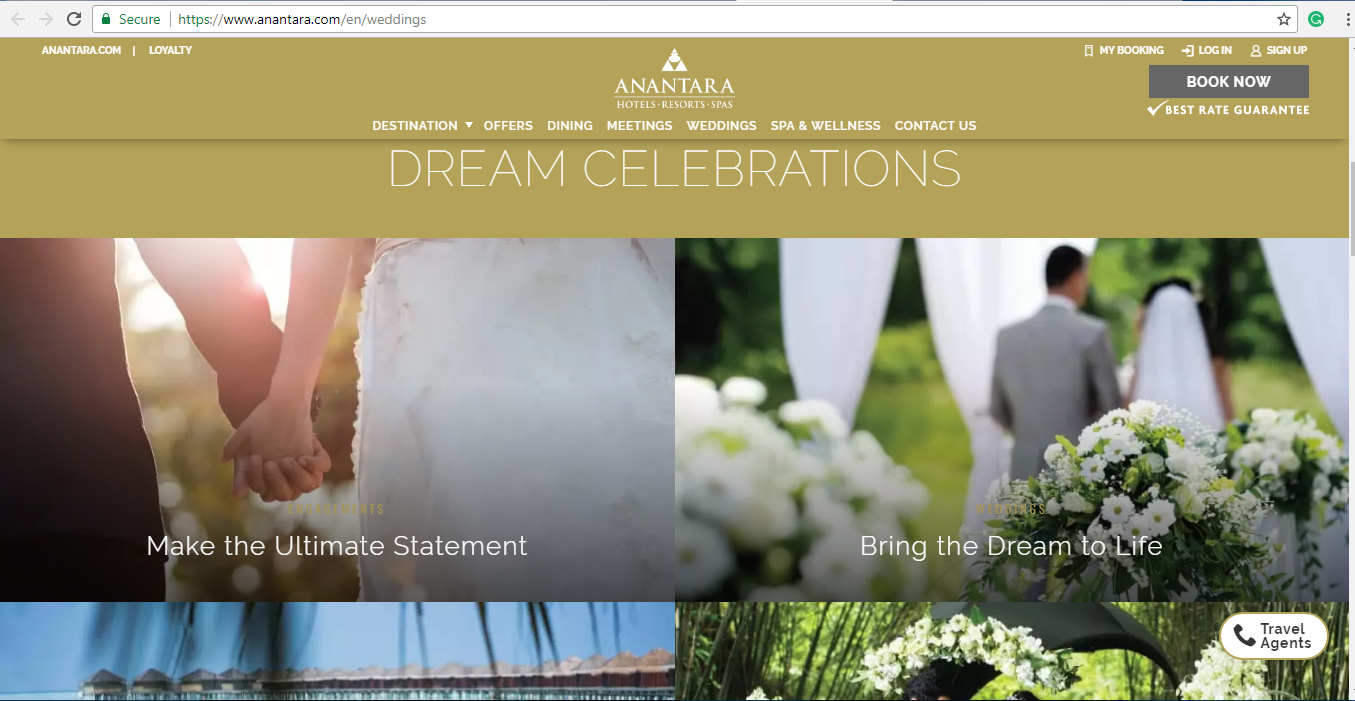 Spa & Wellness: Rejuvenate your body and soul by spending a relaxing day at Anantara's exquisite spa and wellness centres. Anantara spa brings to you soothing Thai and ayurvedic therapies to calm your senses and restore your spirit. This category allows you to book the best spa services at various Anantara resorts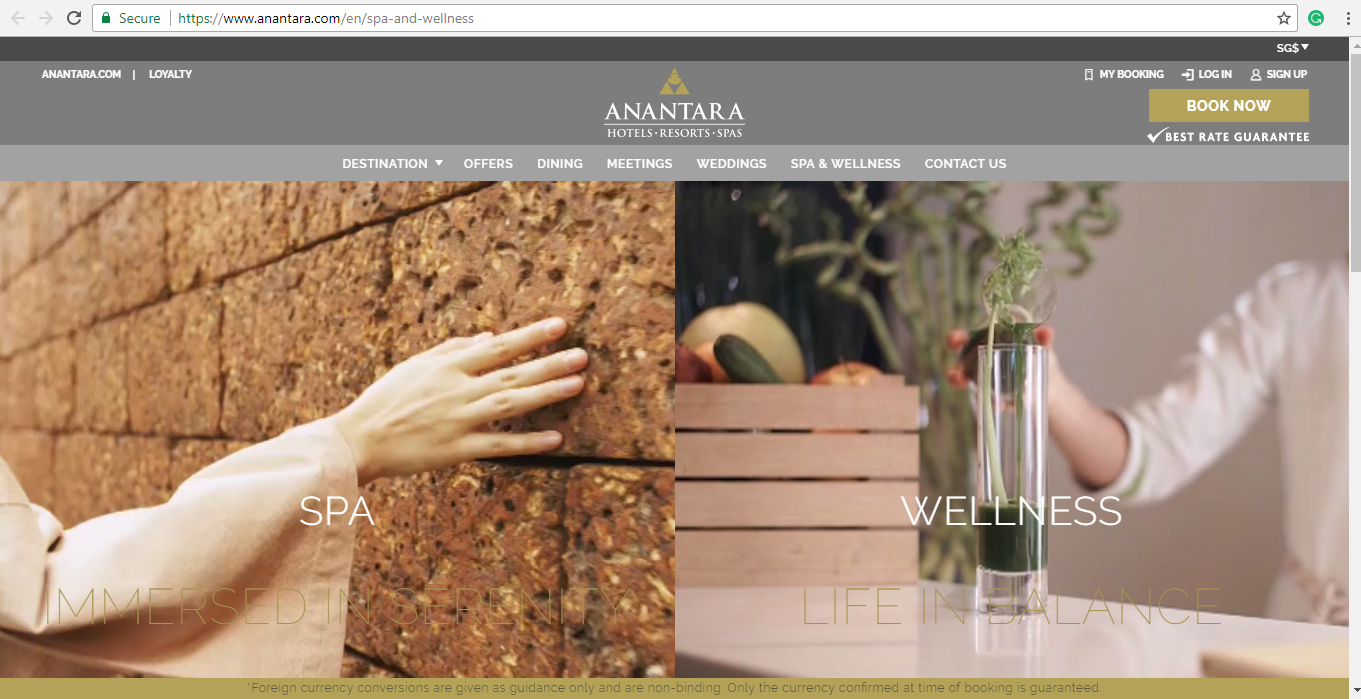 How to make bookings at Anantara
The Anantara website is simple to use and provides an intuitive and effortless booking experience to its customers. The homepage features the different types of services offered by the hotel chain. Travellers/ Guests can easily start their booking process by selecting the destination of their vacation from the 'Destination' option on the top bar of the page.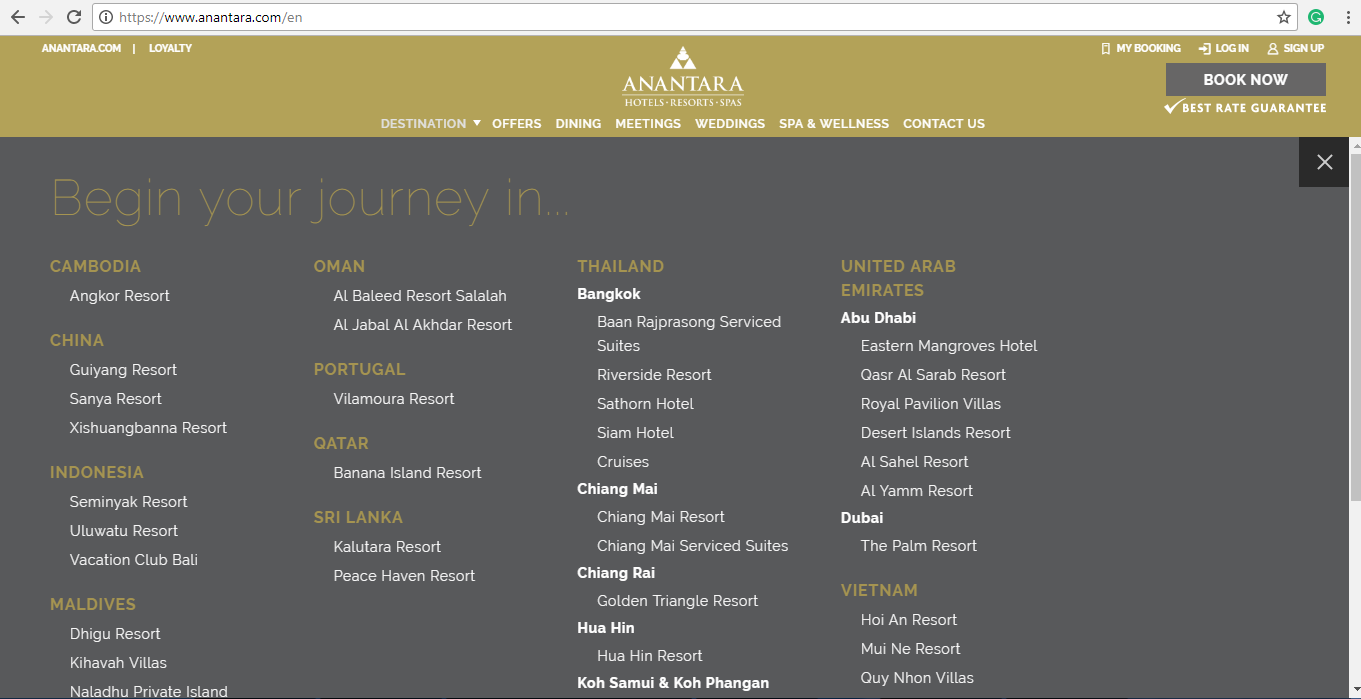 You will be directed to the page displaying all the hotels and resorts located in your selected destination. Select a hotel/resort from the list. Click on 'View the website' button to proceed further.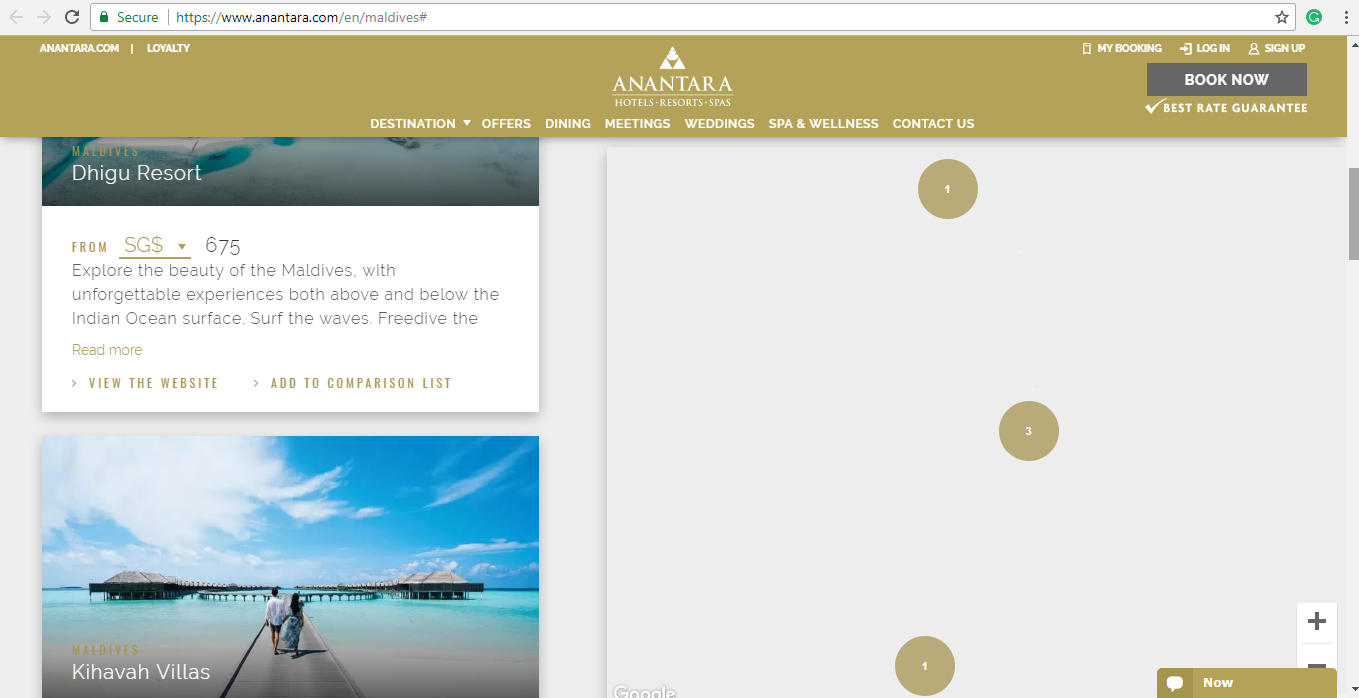 You will land on the website of your chosen resort/hotel. Scroll down on the homepage of the website to view all the details and information regarding your selected hotel/resort. The website features all the amenities and services provided by the resort. To book a room/villa, go to the accommodation option.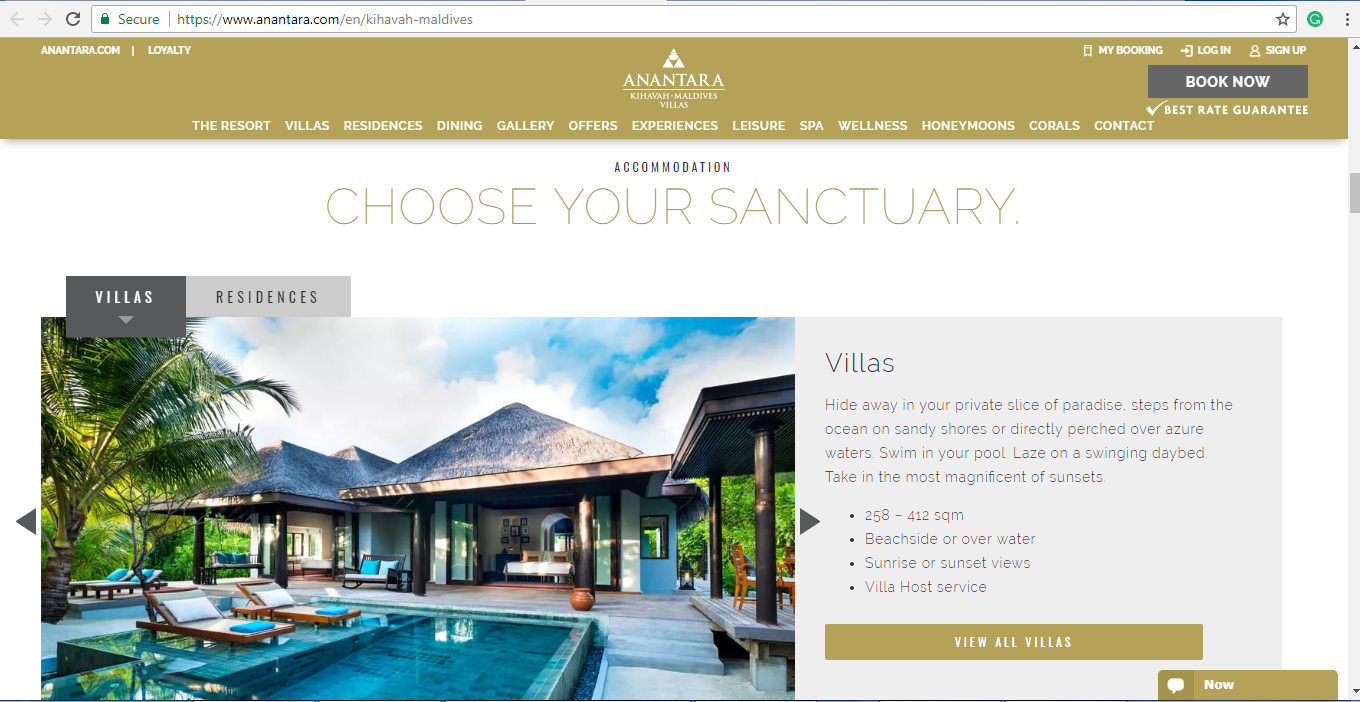 Once you click on the button to view all room/villa/residence options, you will be directed to the page listing all available room types. Go through the details and amenities provided in the types of rooms and select one by clicking on 'Book now'. You can also compare the prices and amenities of various available room types.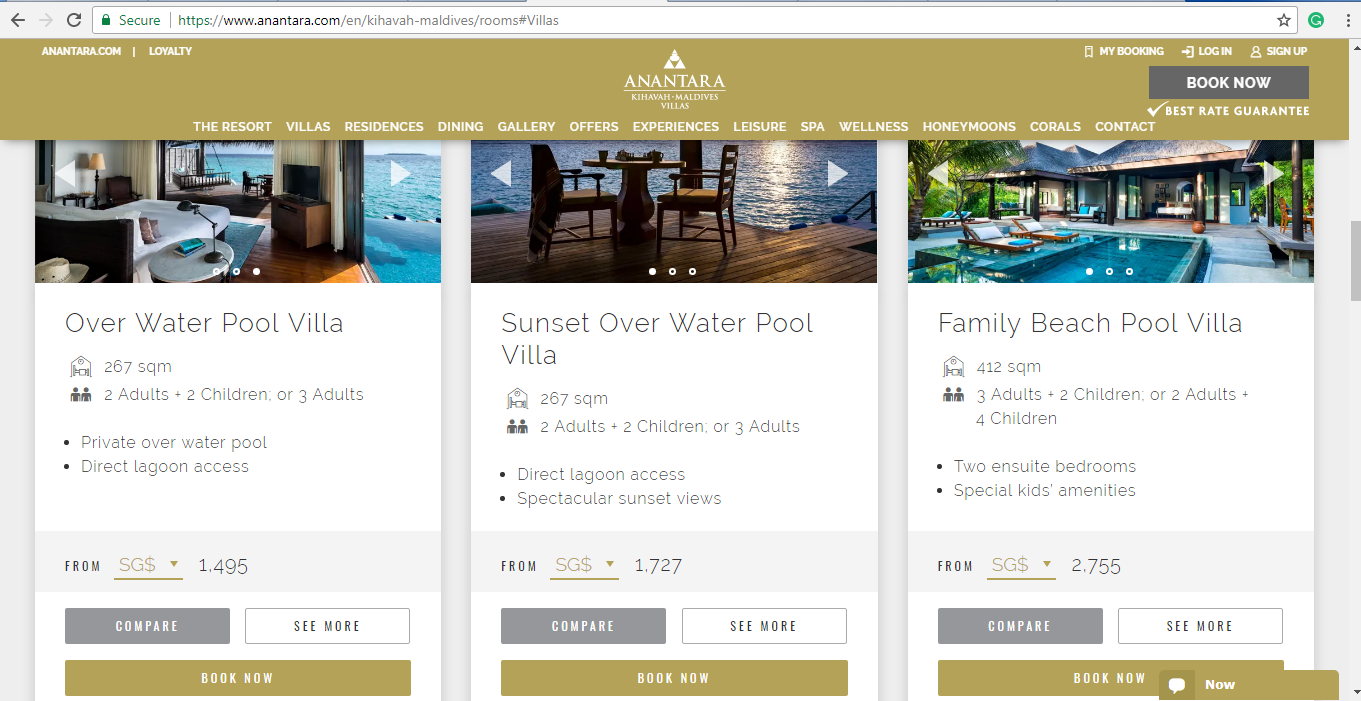 Once you click on 'Book now', a pop up will emerge where you are supposed to select the dates for your check in and check out, along with the number of occupants and rooms. If you have an Anantara promo code or any other Anantara code, you can enter it in 'Have a code?'/'Promotion code' box.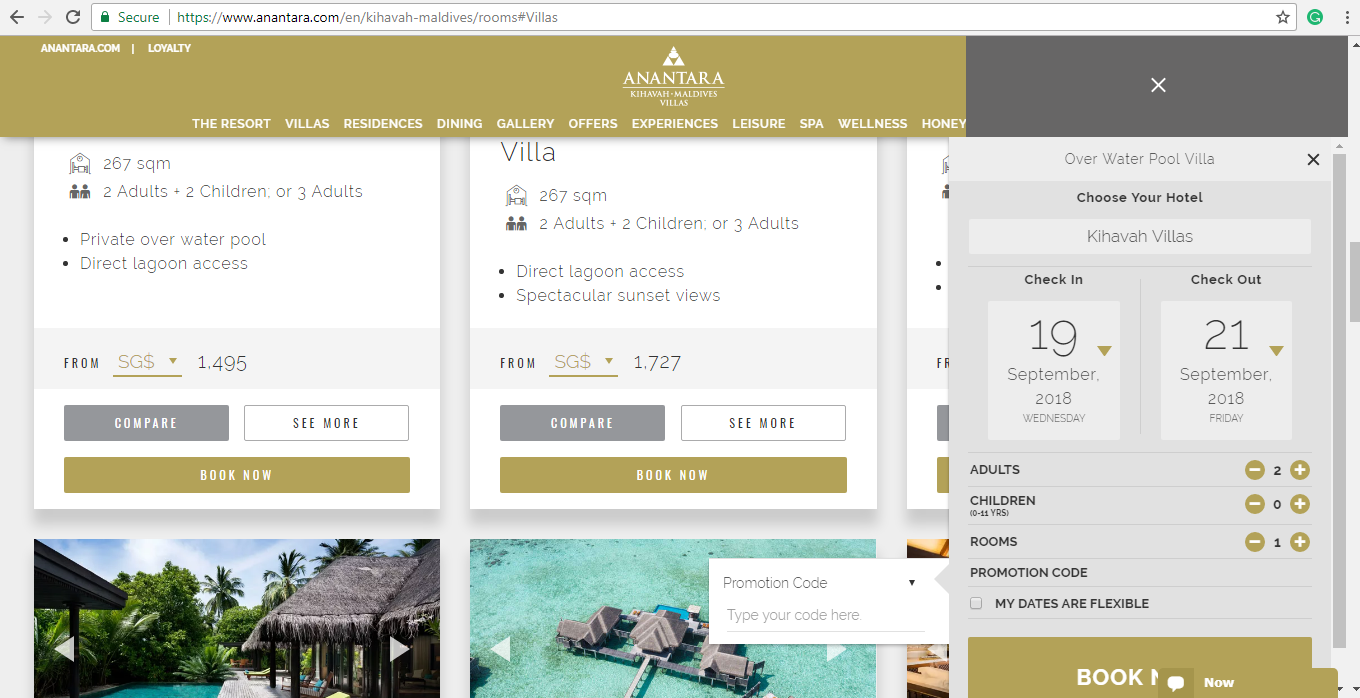 After entering the basic information, click on 'Book now'. You will be directed to another page listing all the rooms under that room-type. Choose the room(s) by clicking on 'Select'.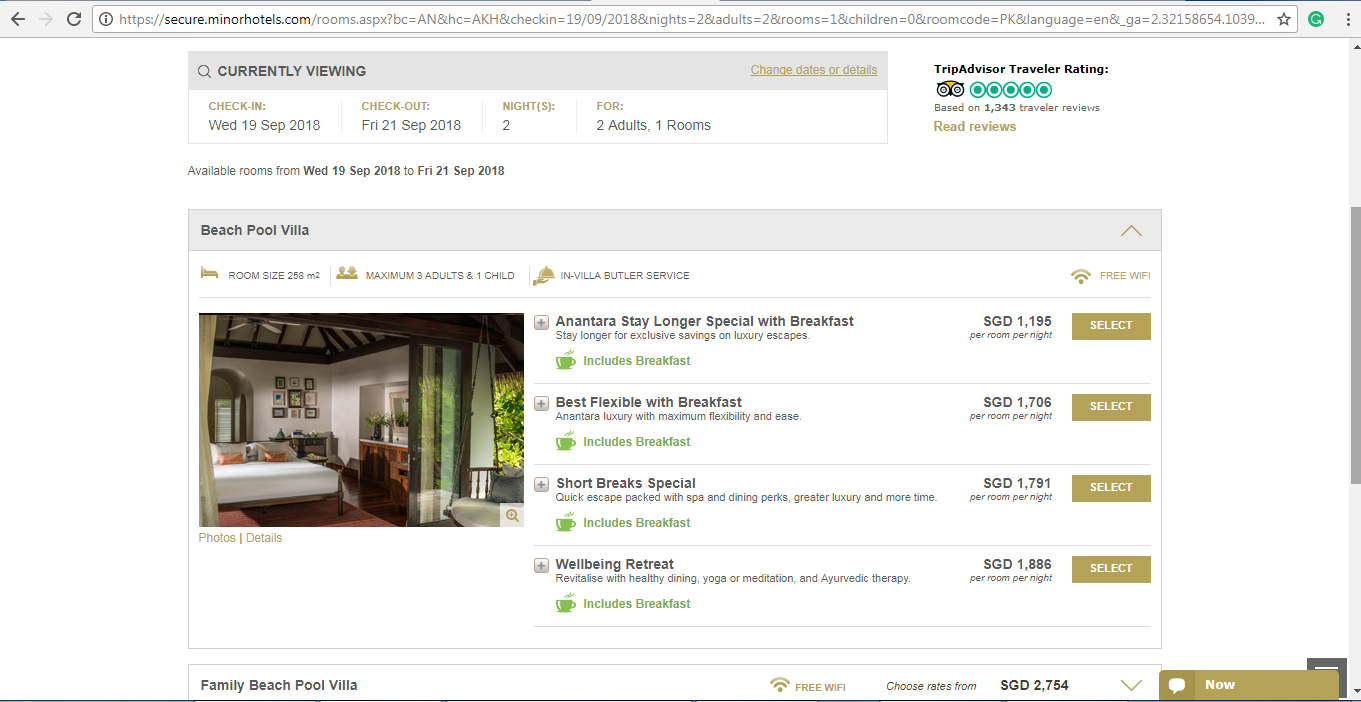 You will land on the booking page. Here, you can see the total price of the room inclusive of taxes and fees. Scroll down and enter the guest details such as your name, email address, contact number, city and country of residence. Proceed to fill in your payment details in the next section and confirm your booking by completing your transaction.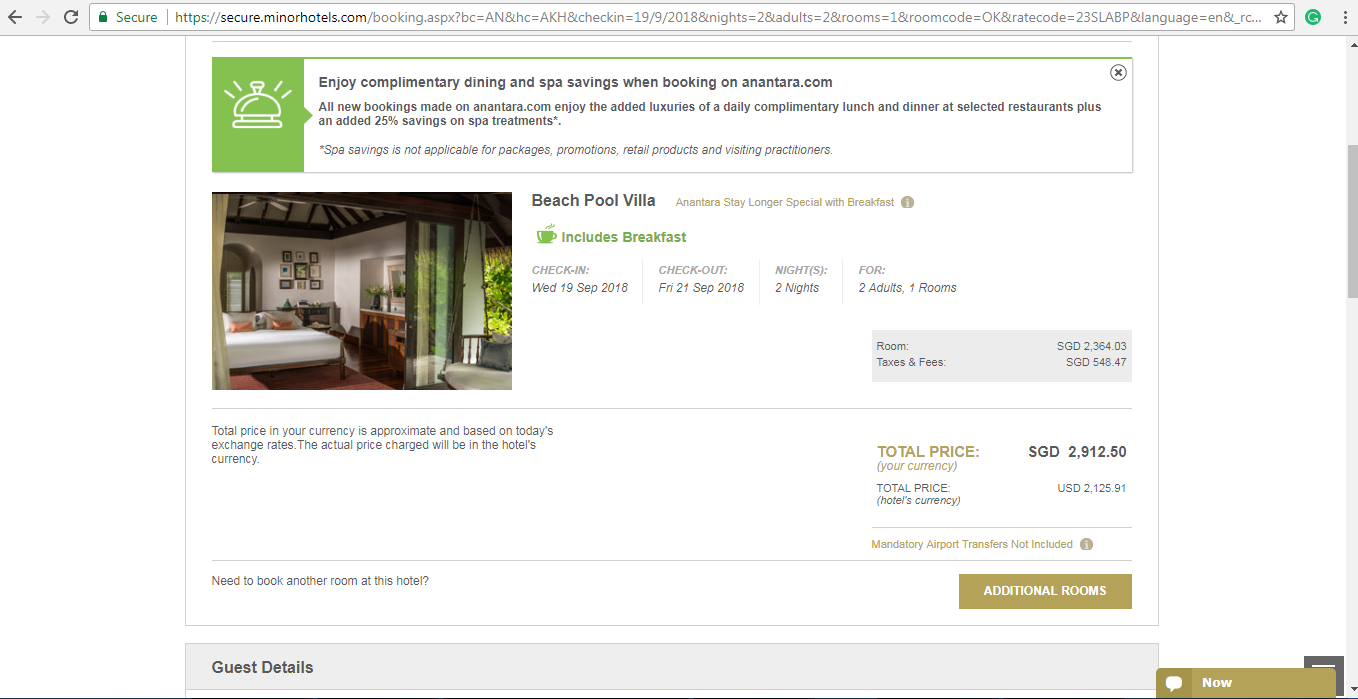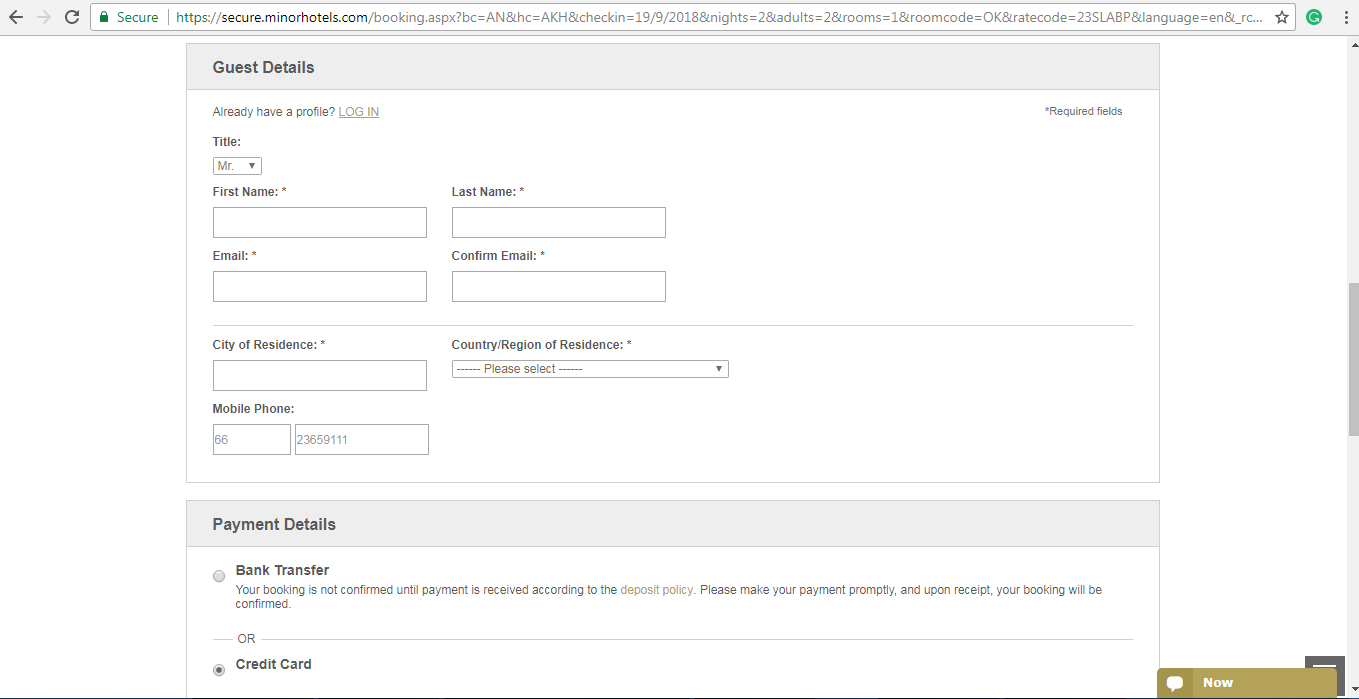 Payment Options on Anantara
Guests can make payments for their bookings via two options:
Credit Card: You can pay for your bookings at Anantara through a credit card verified by VISA, MasterCard, American Express or UnionPay. This is an efficient and secure way to make online payments.
Bank Transfer: You can also pay for your room via bank transfer within 48 hours after making your reservation. You can directly deposit the amount to the hotel/resort account to confirm your booking.
Different Coupon Codes and Discounts on Anantara
Anantara offers a lot of good deals and coupons to save some money on your bookings. Customers can find plenty of Anantara discount codes on the official website as well as other sources. Their official website features all the Anantara discounts and Anantara sale under their 'Offers' section. Some Anantara vouchers are valid for a long time while some offers are available for limited period only. The hotel chain also offers Anantara promo codes for greater discounts during Anantara promotions.
You can also earn 3.5% cashback on your bookings at their hotels/resorts if you proceed to the booking process through a registered account at shopback.
How to Redeem Coupons and Vouchers at Anantara
Online booking gives you ample opportunities to save a lot of money on your accommodations and other reservations. There are many websites that offer coupons and cashback schemes to make your travel expenses lighter.
Here is a step-by-step tutorial on how to redeem coupons and vouchers at Anantara:
Step 1: Select the hotel/resort and a room type available at the resort.
Step 2: Click on 'Book now' and a pop up will emerge where you need to enter your check in/check out dates and number of adults/children. Below this, there is a box for entering your Anantara promo code. Enter the code and click on 'Book now'.
Step 3: You will be diverted to the booking page where you are supposed to select the room(s) and enter your guest details.
Step 4: Continue to the payment section. Provide your payment details and complete the transaction to confirm your booking.
How to book on Anantara using ShopBack
ShopBack offers up to 3.5% cashback on Anantara bookings. Here are the steps to be followed to earn cashback from ShopBack:
Step 1: Visit the ShopBack website and select Anantara from the list of merchants in the travel section on the homepage. You can also use the search box to find the link to Anantara page.
Step 2: Read the terms and conditions as well as any other relevant information provided such as the cashback details and tips to ensure cashback.
Step 3: Click on "Activate Cashback" button on the top left corner of the page.
Step 4: If you are willing to find more attractive deals and coupons, check out the 'Anantara Deals, Offers & Promo' section.
Step 5: You will be directed to Anantara website to browse and select the destinations you intend to visit.
Step 6: You will be eligible to earn cashback from ShopBack on making your booking. The cashback rates might differ based on your history with ShopBack, i.e. whether you are a new or an existing customer.
The cashback offer is not applicable on bookings made on Anantara app.
Anantara's Terms & Conditions
Customers must be aware of the following terms & conditions before making a booking at Anantara:
For early check out, the property reserves the right to charge additional fees. Late check out can be arrange upon request. Additional charges may be applicable.
The credit card used at the time of booking and identification must be presented by the guest on check-in at the property. An imprint or swipe of the card will be taken on check-in.
The property has the right to debit the credit card for all cancellations, no-shows or for any damages caused by the guest to the property, howsoever arising.
The property reserves the right to cancel or modify reservations under circumstances where it appears that a customer has provided an invalid credit card, engaged in fraudulent or inappropriate activity, or the reservations contain or resulted from a mistake or error. They also reserve the right to cancel or amend bookings if the guest(s) do not adhere to their terms & conditions.
Visit Anantara website for more information on the terms and conditions before making reservations at a property. For more information, click here.
Anantara's Customer Service
Anantara hotels/resorts have different customer service contacts for different properties. Customers may write an email to specific properties if they have any queries. Here are the email addresses of some of the popular Anantara destinations:
Anantara Vacation club: [email protected]
Anantara Uluwatu: [email protected]
Anantara Riverside Bangkok: [email protected]
Anantara Chiang Mai: [email protected]
Anantara Dhigu: [email protected]
For any enquiry, guests can fill and submit a query form that is available on the Anantara website.
Connect with Anantara: