Beautify any space with Allposters.com
AllPosters.com is the go-to destination for wall art and other fun visual products that express personal interests, life-long passions and of-the-moment obsessions. With a selection of over 3,000,000 images, AllPosters has something for every budget and decorating style. Find your favourite art prints from classic masters and discover up-and-coming artists. Browse the hottest posters in music, movies and sports or explore their range of t-shirts and novelty gifts. You can even turn your own photo into an art masterpiece with MyPhotos. Plus, choose from custom framing, canvas and wood mounting to truly make a piece your own — all high-quality at amazing prices.
AllPosters.com is dedicated to bringing customers the best selection of posters and art prints in the world. A range of hundreds of thousands of posters and art prints, combined with excellent framing and mounting services and 100% satisfaction guarantee, make it simple and safe for customers to find a selection that is perfect for their home, apartment, or office.
History of AllPosters.com
AllPosters.com was founded in 1998 in Berkeley, California. Since that time, AllPosters.com has helped customers worldwide decorate their homes, dorm rooms, apartments, and offices. Currently, their selection of posters and prints includes entertainment and specialty posters, decorative prints, and art reproductions. Whether you are looking for a Monet reproduction, a print of the Eiffel Tower, or a poster of Michael Jordan, you will find it at AllPosters.com.
Products sold on AllPosters.com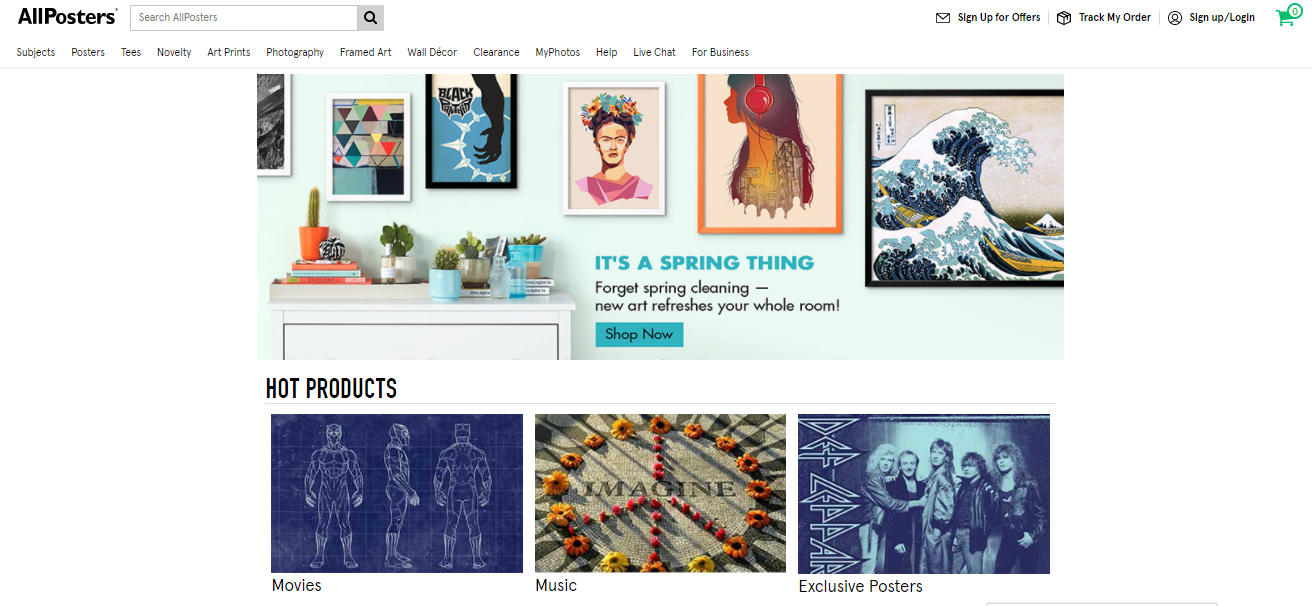 AllPosters.com has the largest selection of posters (standard & giant size), art prints, black & white glossy photos, photo cards, framed or mounted posters & prints, calendars, and more. They also offer custom Framing & Mounting Services, Gift Certificates and free E-cards. Here, we bring you a preview of the products available on the website.
| Allposters.com Product Categories | Allposters.com Products |
| --- | --- |
| Posters | Movies, Music, Television Shows, Transportation, Sports, Landscapes, Education, Animals, Floral & Botanical, Travel, Collections, Anime TV Shows, Affordable Art, People, Teaching Aids, Exclusive Products, Video Games, Humour, Maps, Motivational, Comics, Sports, Superheroes |
| Tees | Animal, Anime, Exclusive, Gamer, Humour, Movies, Music, Sports, Superheroes, Television |
| Novelty | Accessories, Bags & Totes, Beach Towels, Cardboard Cutouts, Funko, Jigsaw Puzzles, Mugs & Drinkware, Throw Pillows, Tech Accessories, Throw Blankets, Tin Boxes |
| Art Prints | Fine Art Prints, Decorative Art Prints, Vintage Art Prints, Abstract Art Prints, Contemporary Art Prints, Impressionism, Art Prints, Landscapes Art, Prints, Modern Art Prints, Pop Art Prints, Andy Warhol, Claude Monet, Gustav Klimt, Henri Matisse, Mark Rothko, Pablo Picasso, Salvador Dali, Vincent van Gogh |
| Photography | Celebrity Photos by Name, Landscapes (Photography), Panoramic Photography, Sports (Photography), Photography Subjects, Photography, Art on Acrylic, Framed Posters, Framed Abstract Prints, Framed Animal Prints, Framed Motivational Prints, Framed Photography, Framed Vintage Prints, Framed Canvas Prints |
| Wall Décor | Framed Posters, Framed Abstract Prints, Framed Animal Prints, Framed Motivational Prints, Framed Photography, Framed Vintage Prints, Framed Canvas Prints, Art on Acrylic, Canvas Art, Metal Prints, Tapestries, Wall Decals, Wall Murals, Wall Signs, Wood Mount |
| | |
How to order on AllPosters.com
Step 1: Locate the product you want by either browsing through the various categories given or by using the search box.
Step 2: Click on the product for detailed information regarding the product. You can customise your print or poster in terms of size and frame options.
Step 3: Click "Add to Cart" to start filling your shopping cart with items you wish to purchase. Your shopping cart will only hold items for a few hours. If you do not complete your purchase within those hours, your cart will be "emptied". If you see the message, "Your Shopping Cart is Currently Empty" you can recover these items by clicking the link, "Recently Viewed Items" found in the Related Categories box. Drop each of these "Recently Viewed Items" back into your shopping cart and you are ready to complete the Order Process.
Step 4: When you are ready to proceed with your order, click on "Proceed to Checkout".
Step 5: Enter your "Shipping Information". PLEASE NOTE: You will receive an Order Confirmation e-mail and Packing Slip which contain pricing information unless you indicate the order is a gift. For gift orders you will be able to write a personal gift message and we will not reference any price details on the packing slip.
Verify the AllPosters Shipping Information. If you need to make changes, click your web browser's "back" button to return to the previous form. If it is correct, click "Next".
Step 6: On the next page, "Please Confirm Your Purchase", select your Shipping Options, and, if appropriate, enter any Gift Certificate or AllPosters Coupon Code you have. Click "Next".
Step 7: Select your payment preference on the "How you Would Like to Pay" page.
Step 8: Once you've selected your payment method and channel, follow the prompts on each page, and carefully review your information. Once you are finished with the process, print a copy of the page with your confirmed Order number and items. You will receive a confirmation email once your order has been submitted.
Payment options on AllPosters.com
Pay On-Line (Credit Card):
For the fastest and most secure service, place your order on our Web site and select the On-line Credit Card option to use the secure Web site and take advantage of our security guarantee. The following major credit cards are accepted:
Visa
MasterCard
Discover
American Express
Bill Me Later:
Bill Me Later is a convenient and secure new payment method designed for purchasing on the web. As a credit account, Bill Me Later provides you with the flexibility to purchase without using your credit card. Bill Me Later is offered through CIT Bank, Salt Lake City, UT and is available to US customers who are of legal age in their state of residence. Subject to credit approval.
PayPal
Pay by Phone (Credit Card)
Pay by Mail
AllPosters.com do not currently offer COD, wire or bank transfer options. Also, payment methods available may differ as per your location. To know the options available, please click on payment options while checking out.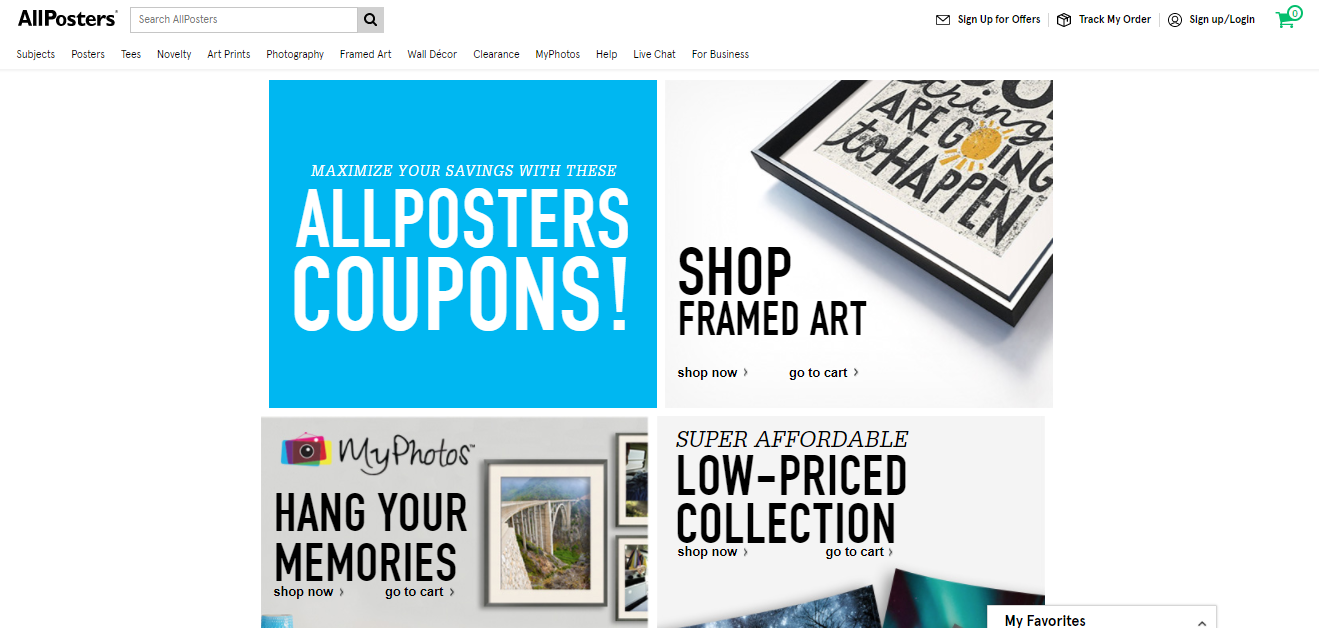 AllPosters.com deals and cashback with ShopBack
Along with an extensive product range, AllPosters.com offers customers in Singapore several amazing deals such as AllPosters free shipping codes and additional cashback when they shop via ShopBack. Some of the best deals for AllPosters on ShopBack have been detailed below.
| Offer | Deal | Terms and Conditions |
| --- | --- | --- |
| Discount offer | Up to 3.0 Cashback | Enjoy up to 40% Discount on AllPosters |
| | | |
How to Shop on AllPosters.com using ShopBack
ShopBack offers up to 3.0% cashback on various items if you shop from AllPosters in Singapore. Here are the steps you need to follow to earn cashback from ShopBack:
Step 1: Visit the ShopBack website and click on the AllPosters store at the bottom of the homepage. You can also use the search box to find the link to the merchant store.
Step 2: Click on "Activate Cashback" button on the top left corner of the page.
Step 3: If you are interested in finding the latest AllPosters discount code, check out the Promo codes, coupon codes, vouchers and discount codes section.
Step 4: You will be redirected to the AllPosters website to browse and select the items.
Step 5: When you place the order, you will be eligible to earn cashback from ShopBack. The cashback rates differ based on product categories and based on whether you are a new or an existing customer.
AllPosters delivery and order processing
Depending on the types of items you purchase, the order processing time will vary. If you select Expedited or Overnight delivery for your order, you will receive priority processing which shortens the processing time by up to 3 days.
In order to offer you the lowest shipping rates, AllPosters.com combines similar items in one shipment. Note that orders are shipped and delivered only on business days. Delivery estimates do not include weekends.
In the event that an item is temporarily out of stock or on backorder, the company may hold the rest of your items until the item is restocked. As soon as it arrives in the warehouse, they will ship your entire order to you in one shipment.
Average Order Processing Times per Item:
Posters, Prints, Photos, Calendars, Postcards, Magnets and T-Shirts: Usually 24 hours
Special Order Prints: 5-7 business days
Framed & Mounted Items: 3-10 business days
Canvas Transfers: 3-14 business days
Note: If you order a combination of Posters and Special Order Prints, the order processing time may be 5-7 days because AllPosters.com will ship those items together in one shipment.
Average Transit Times:
Standard Delivery: 3-7 business days after processing
Expedited Delivery: 2-4 business days after processing
Overnight Delivery: 1 business day after processingNote: Your order will arrive based on the processing time plus the transit time. For example, if your processing time is 3-5 business days and you pick Overnight delivery, you should expect to receive your order in 4-6 business days.
Packaging and Shipping on AllPosters.com
The quality of your shipment is a priority at AllPosters.com and the materials used to package the products reflect their commitment to superior quality and service. Rest assured, if your order contains a combination of items, they will be shipped separately in the appropriate packaging, and you will not be charged additional shipping.
Posters and Art Prints: Rolled with protective wrapping paper and packaged in a cardboard tube.
Glossy Photos and Photo Cards: Packaged and protected in a flat 23 cm x 30 cm standard cardboard envelope.
Decorative Mirrors, Canvas Transfers, Mounted Items and Framed Items: Covered with protective wrap and packaged in a durable cardboard box.
Gift Packaging: During checkout you can indicate your order is a gift and write your own gift message. Your message will be printed on the packing slip and AllPosters.com will not include any prices on the packing slip.
AllPosters shipping time and rate
Customers in Singapore will be required to pay a certain amount of shipping fee for their orders. The rate differs from the type of order as well as delivery method. The rates can vary from $0.99 to $99.99 based on the kind of items chosen such as a poster or print as compared to a custom framed art piece. In addition, customers can enjoy the AllPosters.com shipping tracking option available on the website to know exactly when your order will reach you.
Return policy on AllPosters.com
The return policy at AllPosters.com is simple: If you don't love it, return it. The company is committed to quality products and your satisfaction is 100% guaranteed.
If you are not satisfied with any item, return it within 30 days of receipt for a free replacement or return; simply complete the return form on the back of the packing slip included with your order. Refunds are issued within 48 hours of receiving the return.
To initiate a return, customers can contact the company via the following methods:
E-mail: [email protected]
Live Chat
Call: 888-654-0143
Connect with AllPosters.com
For any assistance regarding orders, products or returns, you can easily connect with the customer care team at AllPosters.com via the following methods.
Email for orders and customer service inquiries: [email protected]
Live chat via the website
International number: 888-654-0143
Please note that the company are closed on the following holidays:
New Year's Day
Martin Luther King Jr. Day
Memorial Day
Independence Day
Thanksgiving Day
Christmas Day
In addition, you can also follow the brand on social media to know about the latest offers and products.