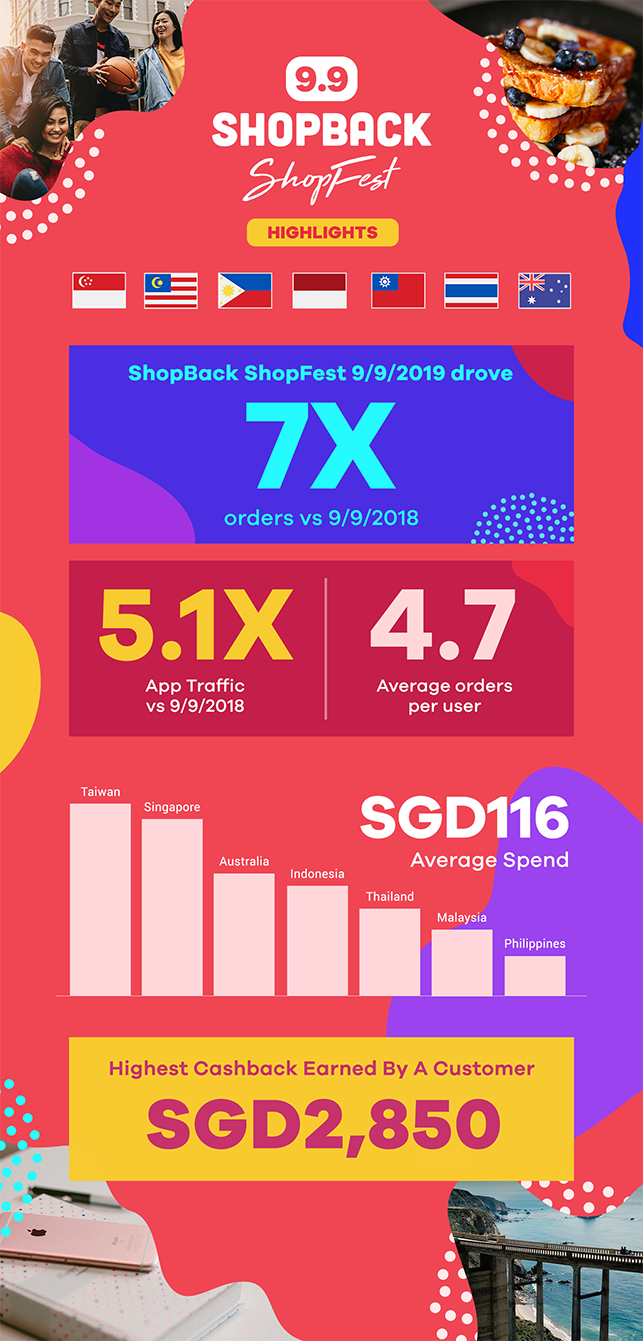 Flash Deals Terms & Conditions: Customers must transact from the stated time onwards in order to qualify for the Cashback. Valid from 9 Sep, 12:09am onwards only based on the individual timings stated below. Limited to one redemption per item per ShopBack account only. ShopBack reserives the right to invalidate any multiple orders made by the same individual if suspected of violation of the terms and conditions and/or of any fraudulent activity. Limited sets are available. Valid only on a first-come-first-serve basis. Once the stock has run out, an "out of stock" notice will be shown on Lazada's or Klook's site.
Grab A $0.99 Daily Deal Terms & Conditions: Daily deal is valid only for the date displayed on the deal below. Valid via purchase via the ShopBack App only on the Lazada App. Valid for both new and existing ShopBack users. Valid for 1 redemption per item per ShopBack account only. Customers must purchase via the product deal below and purchase the exact variation of the product deal displayed directly through the link in order to qualify for the promotional Cashback. ShopBack will not be liable for any similar variations of the product if the link used for purchase is different from what is provided through this page. ShopBack reserves the right to invalidate multiple orders made by the same individual if suspected of violation of any of the terms and conditions and/or if suspected of any fraudulent activity.
App Collectible Voucher Terms & Conditions: Not valid on ShopBack GO purchases. No min. spend required. Valid for 1 redemption per ShopBack user only.
What is the 9.9 sale?
This is an annual ShopBack event that gathers the digital stores in ShopBack into one platform to celebrate the convenience that the innovative e-commerce companies have brought into the modern world. It also works as a way to thank the loyal customers by giving them their well-deserved rewards in the form of special deals and discounts for doing their shopping at ShopBack. For this year's 99 Sale celebration, the theme is about "Celebrating The Smarter Way" focusing on how we spend our everyday lives.
Expect the unexpected with 99 sale
As expected, there will be upsized cashback on ShopBack's popular stores depending on the theme as the countdown progresses. There will be special cashback rates exclusively for this period only, as well as 99 promotions and other giveaways. On the day of the 9 9 sale be amazed at the massive 99 discounts of ShopBack's top stores. You can get 99 promos and special 99 discounts from your favorite online store! Aside from the epic celebration, there will also be exciting giveaways, freebies, and contests. With this event running for almost a month, there will be hundreds of deals from over 60 of your favorite participating stores. The cashback rates are better than ordinary days so make sure you get to participate on those dates!
Celebrate the smarter way to ride and play
This is the 9.9 day celebration with the longest sale dates. The limited time offers feature 12 of your favorite shops for food, rides, entertainment and other activities. To start off, plan and manage your activities with Klook and get up to 3% cashback on 28 special routes. For other category of 99 deals, you can get up to 1.9% cashback. This is only valid if you purchase from the ShopBack app. After booking your travel, you can book your accommodations via Hotels.com and get 9% cashback. Your travel will not be complete without purchasing something from iShop Changi. You can get 9% cashback during the 9.9 promo period as long as you will be arriving, departing or transiting Changi Airport within 18 hours to 2 weeks. To get the SGD38 off from your minimum spend of SGD388 every Monday to Thursday, just use the special 99 code "FAB38" upon check out. For Fridays at iShop Changi, there is a 50% discount with Fab Fly Day with SGD9 cashback. And to complete the entertainment package, Cathay Cineplexes can give you a flat cashback of 9% plus free SGD2 F&B voucher. You can check out what movies are currently showing and choose from the cinemas most convenient to you. Book your movie marathons in actual cinemas! Your cashback is valid on any full-priced ticket.
Celebrate the smarter way to eat
If food is what you're looking for in this big celebration, worry not! There is foodpanda to save the day. This category also features eatigo, where you can get cashback on your restaurant reservations. This is valid if you show up on your reserved date and have a valid meal transaction within Singapore only. You can qualify for this if you made the reservation via the Shopback desktop website only. With Eatigo, you can reserve your tables with 99 discount at their partner restaurants.
Make the most out of the pre 9 9 sale period
Knowing the schedule of the countdown 99 sale, plan the days when you want to shop for a specific item. The pre-sale schedule will give you more time to think about what to avail on the day of the day itself. Start browsing on the featured shops for your selected days to do your online shopping. Pick the items you would like to purchase and wait for the 9.9 deals to enjoy the huge discounts. Don't miss out on the chance for a huge cashba ck or the chance to get your hands on a 9.9 Promo Code. Download the ShopBack Cashback Buddy to remind you to activate your cashback every time you do your shopping. Select the best method of payment where you can earn more cashback. Even just referring friends to shop at ShopBack can make you earn bonus cashback! Familiarize yourself with how the cashbacks and discounts work for each store within ShopBack. They can have different mechanics and processes so save yourself the time by reading their terms before making a purchase.