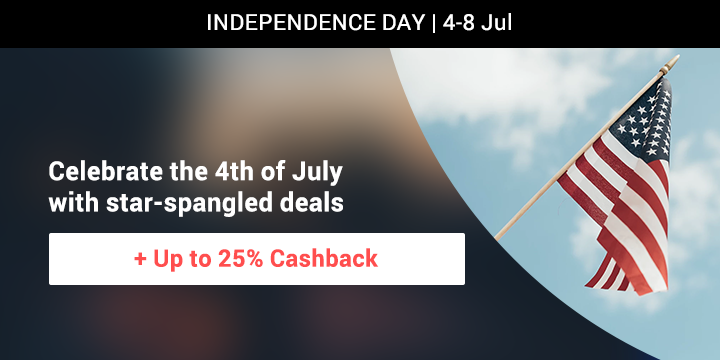 Celebrate with loved ones over a good old BBQ
Ladies, strut in your favourite summer trends
Gentlemen, show off your best looks this season
Kids, enjoy the newest summer collection
Run wild and free this holiday season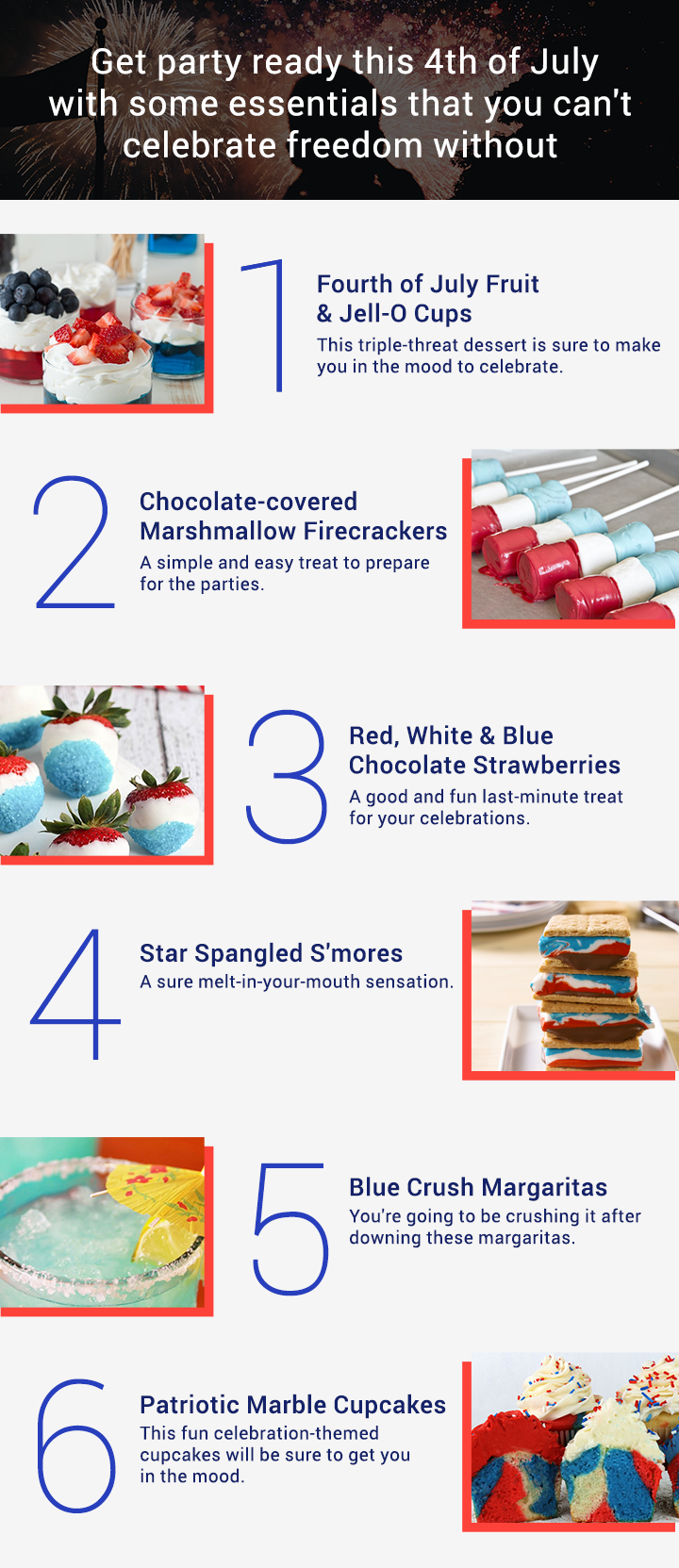 ShopBack celebrates the 4th of July
4th of July, or more commonly known as The Independence Day is a celebration of freedom and liberty. It is a day not only celebrated in America. Many around the world with the same ideals of freedom and liberty also celebrate this momentous occasion, ShopBack included. And so to mark this special occasion, ShopBack gives you the freedom to shop as much as you want with the best deals and offers to help you save on your orders.
Only the most explosive of deals to mark the 4th of July
It wouldn't be a celebration without something going boom to mark it off! Well in this case, ShopBack is giving out some of the best 4th July deals that just scream out kaboom with a capital K! It is a fireworks extravaganza of the best deals and promotions to light up your shopping experience. Lighting up the online shopping scene are all sorts of discounts you can marvel and awe at from a whole host of online retailers. 4th of July is known as a celebration of freedom, independece and liberty, so feel free to indulge in all the great saving opportunities presented to you this fourth of July. This is the best July 4 sales yet and you wouldn't want to miss out on this exciting shopping bonanza of a distinctly American flavour.
Enjoy the freedom to shop with July 4 coupons for great discounts
Savour the freedom to shop with great 4th July discounts when you get your hands on some coupons. Take this chance to shop the American way where bigger is better and the more the merrier. Shop to your heart's content from a great range of merchants with the best deals and 4th of July promotions and promotions.
Paint yourself red white and blue with the best 4th July offers from our American retailers
ShopBack has a wide range of merchants of a distinctly American flavour such as eBay and Sephora. These merchants offer wares from a wide ranging of categories as diverse and numerous as the number of states in America. You can find anything and everything from these retailers be it clothes, electronics, furniture to beauty products. The best part is that almost anything and everything can be yours on discount when you shop during the 4th of July sales. So go ahead and paint the streets red, white and blue on your shopping spree this 4th July sale!
Crack a bottle of your finest with the best offers and promotions from the July 4 specials
Countdown to the date 4 of July by toasting with a glass of the finest alcoholic beverages you can order online from one of our many merchants. 'What's your choice of poison' is what they would say. If you fancy a quiet, cosy and intimate night in with a few of your closest friends or maybe your significant other, then perhaps wine would be perfect for this occasion. A little candle light or mood lighting, blanket and a sofa and the clink of wine glasses serves as the perfect atmosphere to quietly usher in this special day. If you're a social butterfly and you're all about the ra-ras and the hurrahs, then perhaps cracking open a tall cold one would be better suited for you. Grab a six-pack or two, or three, of the most refreshing beer and have a party. Or if you're looking to get creative, get yourself some liquor. There's plenty to choose from. From the juniper berry laced gin, smooth vodka to smoky whiskey. Remember to also grab some mixers if you're looking to jazz your drinks up into a cocktail. So satisfy your thirst for party and celebration with the 4th July offers, promo codes and deals. All these discounts however do not mean you shouldn't be practicing moderate drinking! So know your limits.
Have a feast with the best 4th July deals
All those drinks and no food would be a major travesty. So seal the whole celebratory deal with some grubs! There's no better way to mark a special occasion than with a feast. There is no one happier than someone with a stomach filled with choc-loads of delicious goodies. So grab whatever necessary during the 4th of July sales from food delivered to your doorsteps to ingredients so you can whip a culinary storm. Such a special occasion is deserving of you gaining a few pounds. Believe me, you will with the many 4th July deals going on that offers the best discounts on your orders.
Look your best and be the belle of the 4th of July ball
There will be parties going on every in commemoration of this special date. This gives you more than enough reasons to doll up. And one of the best places to get your sartorial fix is online. You can do away with tiresome window shopping, hopping from one shop to the other, to find that perfect little black dress all at the relative comforts of your own home or wherever you may choose to do it. With online shopping, you can let your fingers do the walking as you browse through the extensive catalogue of the fashion stores that have great offers for you this 4th of July. So dress to impress with 4th July discounts to set all heads turning at whichever party you'll be at.
Free up your finances with 4th July deals and cashback from ShopBack
On top of the many discounts you get to enjoy in this special event, you can also earn additional savings by shopping with ShopBack. Enjoy rewards of cashback when you make your orders with ShopBack. And when you shop with 4th July discounts and offers with cashback, it allows you to stretch your dollars and maximize your 4th of July shopping experience. So shop away with ShopBack and save with promotions!
All the best 4th July offers at your fingertips at ShopBack
You don't have to waste your time looking for the best ways to save this 4th of July. All you have to do is pay a visit to ShopBack and all the best deals will be presented to you. So make ShopBack your starting point for every shopping journey you make. The savviest 4th of July experience is always with ShopBack. Happy 4th of July!