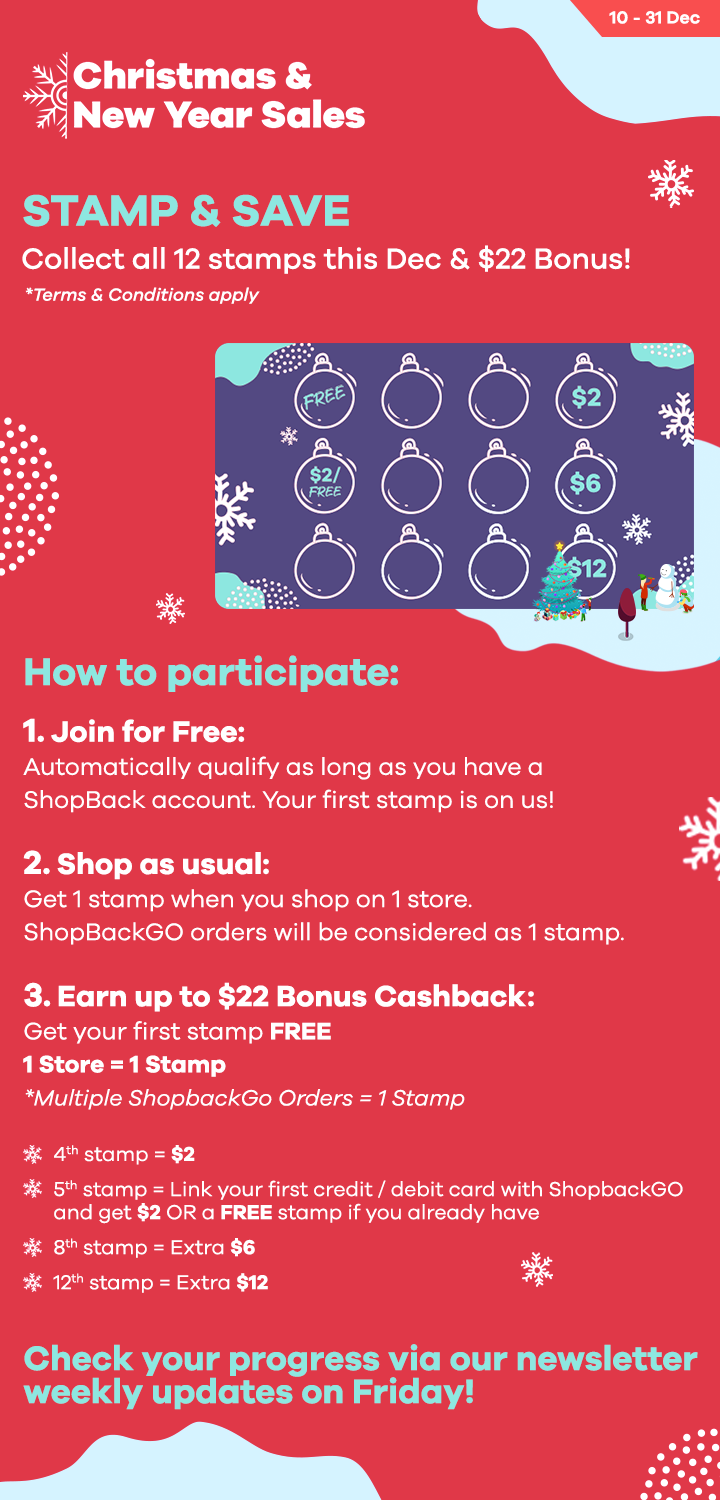 **Please note that newsletter progress updates are dependent on merchant tracking periods and may not reflect accurately in real time. Any exchanges, refunds, returns or delayed tracking will affect the status progress of the newsletter updates.
Terms & Conditions
Valid for all ShopBack registered customers (existing and new).
Valid from 10 Dec, 0:00 - 31 Dec, 23:59.
Limited to 1 redemption per ShopBack user only. ShopBack user can only redeem 1 stamp card throughout the campaign period.
ShopBack GO transactions will be counted as 1 single order stamp. If you make 2 or more ShopBack GO transactions, it will only be counted as 1 stamp. If you do not have any ShopBack GO transaction, you will not be able to progress past Stamp #4.
Additional $2 Bonus on the 5th stamp is only applicable on FIRST-TIME card-link on ShopBack GO. If you have already linked your credit / card with ShopBack GO, you will get a free stamp.
Shop on any ShopBack store. One store is equal to one stamp. If you shop on the same store for 6 times, it will only be counted as 1 stamp.
No minimum spend is required.
Bonus Cashback will be credited by 29 February 2020 to your registered ShopBack account.
Any order returns, refunds, cancellations and failed payments will be disqualified from this promotion.
Orders that are 1) not made via ShopBack, or 2) suspected to have fraudulent intent (eg. creating multiple ShopBack accounts), will not qualify for the Bonus Cashback.
ShopBack reserves the right to modify, amend or discontinue any part(s) of this promotion without prior notice.