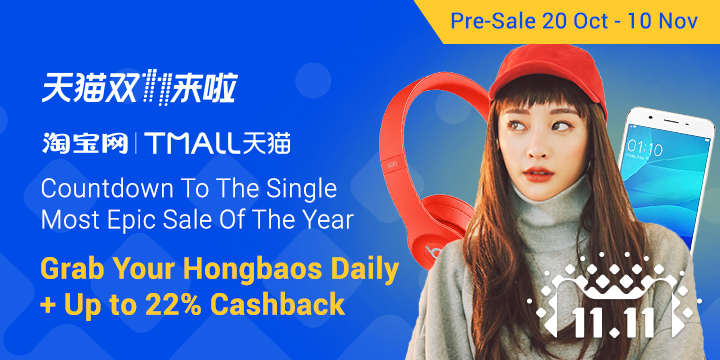 Enjoy These Exclusive Offers
Watch Our Taobao/Tmall Tutorial Guides
1. How do you create a Taobao & Alipay account?
2. How do you shop on Taobao?
3. How do you contact a Taobao seller using Aliwangwang?
4. How do you save on shipping using Global Direct Shipping?
1111 Sales is finally here!
So you just missed ShopBack's 9.9 sale, but that's okay, because Shopback Singapore is now rolling out our 1111 sale! That's right! 11 Nov is the anointed Singles day, and of course there will be great 11/11 deals exclusively on 11 November this year! Enjoy 11-11 promotions with ShopBack's largest merchants .They are all aboard the Singles Day November promotions! So gather up your other single friends and enjoy 11-11 discounts together! You might be alone, but you can be alone together!
Just a little note, 11.11 is stylised as 1111, 11/11, or even 11-11, these are all referring to the same Singles' day sale in November, and therefore can all be used interchangeably.
(Don't) Put a ring on it.
Originally from China, the Singles day is also known as the Guang Gun Jie, and 11/11 has now become a popular day for merchants to roll out wacky sales (on top of pre-existing November deals), that will leave customers clamouring for more. Furthermore, the 11-11 sale is for one day only! So make use of this chance to use some 11/11 codes and enjoy all the sweet deals characteristic of a November offer. So don't wait, participate in the 1111 sale-- which could be the largest sale that started in China!
You know what? Don't be afraid to use this chance to buy yourself some jewellery with a great 1111 code. If no one will shower you with presents, show yourself some love and put a ring on it! Of course, do it with a 11/11 promotion for the best price available.
The race is on for top 11/11 offers from our merchants
Single or not, no one should miss out on the crazy 11 November deals! Merchants and buyers alike will be scrambling for the greatest 11-11 offers online, so no one should get left out!
You might be single, but the 11/11 offers will not come alone! With different merchants coming on board, you will never be strapped to find a good 11.11 discount. Singles Day deals have never been so good.
11/11: Pocky/ Pepero day!
You know what else you can get on 11-11? That's right, Pocky or Pepero! Use these November promotions to buy Pocky or Pepero in bulk, because it's Pocky/ Pepero day, depending on whether you are more in tune with Japanese or Korean "traditions". Stock up on these stick biscuits, and be aided by the 11-11 deals to back your wallet up! Because the 11.11 sale is not just something just for single Chinese, but they are also for those who are very in tune with Japanese and Korean cultures! So wish your friends the best for their relationships by giving them some Pocky and Pepero treats this 11/11!
1111 Singles Day and the great 11 November Sale
Enjoy the different 11-11 promotions that have been rolled out for you, specially on this day! If you are looking to change your status from "single" to "attached", shop through a wide range of products while still enjoying the best 11/11 offers. While you're at it, be sure to check out our fashion merchants, and make use of these November promotions for a transformative makeover. If you are not looking for anyone special, then treat yourself and celebrate the marvels of singlehood. Get the latest gadgets from here, and enjoy your own company!
Alternatively, anyone single (or not) can search look for a holiday, or a staycation to either widen your social circle, or to have some great alone time. Whatever it is, be sure to make full use of the 11-11 deals available!
Enjoy extra savings with Nov Sales and ShopBack Singapore!
When you shop at merchants by clicking through ShopBack Singapore, you are opening yourself up to even greater savings by earning extra cashback. So yes, on top of your 1111 Sale savings, you can get more cashback when you shop with ShopBack Singapore!